Applying To College During A Pandemic?
Things you should know and consider as you plan
For many, 2020 has been a year of chaos, panic, and confusion. As 2021 approaches, high school seniors starting their application process are faced with more uncertainty than ever before. But no need to fret! East's College and Career department has and will continue in assisting prospective college students under these unique circumstances. Regardless of a high school senior's situation, there are a few things this year's graduating class should keep in mind.
The State of Illinois sponsored a Fall SAT for the St. Charles East's class of 2021 back on September 23rd, 2020. Standardized testing was already a controversial topic before COVID-19. Now in the midst of the pandemic, most colleges have gone *test-optional or **test-blind. As a matter of fact, more than 400 colleges suspended the requirement for SAT and ACT scores for this year's college applicants. 
"This is because colleges are taking a more holistic approach to application review," Perkins said. It doesn't mean colleges aren't interested in seeing an applicant's performance on standardized tests, but unsubmitted SAT/ACT scores will not be considered in admission reviews for test-optional and test-blind colleges. 
Students have options to consider. In a recent interview with The X-Ray, East guidance counselor Katie Perkins said, "If a student's ACT/SAT score is an accurate reflection of his/her academic ability. He/she should consider sending his/her score(s)."
Perkins said the absence of test scores has also led to colleges placing more of an emphasis on supplemental materials. "These are items like letters of recommendation, personal essays, work/volunteer experience, school involvement and leadership. All of these factors are important during the college admission review. The academic factors (i.e. GPA, level of rigor, and the types of classes a student chose to take in high school) are still taking the forefront." 
Senior Bilal Karim is one of many applying to colleges during this year's admission's cycle. He had the following to say regarding standardized testing:  "I've submitted ACT/SAT scores for the 2021 Fall application process. I think they're extremely beneficial. Standardized testing scores can often give students a boost if one happens to perform extremely well. It serves as an alternative/supplement to show how much a student learned."
According to a recent USA Today article, many colleges understand the pandemic has and still has caused significant financial hardships (layoffs, pay cuts, mounting debts, etc.) for parents and students alike. "'Appeal for more financial aid if you've been affected financially by the coronavirus pandemic, especially if the parents have lost their jobs or experienced a furlough or pay cut,' said Mark Kantrowitz, publisher and vice president of research for Savingforcollege.com." Financial aid is especially important for families struggling to make ends meet. Illinois has made efforts to lessen these burdens for prospective applicants.  
Beginning with the 2020-21 academic year, all Illinois public high schools now require their students to complete either the Free Application for Federal Student Aid (FAFSA) or the Alternative Application for Illinois Financial Aid (Alternative Application) as a prerequisite to receiving a high school diploma. Even though colleges aren't required to adjust a student's federal financial aid, they're considering special circumstances and are willing to work with students in making appropriate adjustments. 
Perkins said, "A student can make an amendment to their FAFSA if his/her financial circumstance has drastically changed. Students will want to work with their college's Financial Aid department directly. Every college operates differently, but most will take these changes into consideration when considering financial aid awards."
Due to the unpredictability of COVID-19, many seniors' college lists will change. This leads to the question, should students cast a wider net of college applications? Perkins said, "I typically recommend students apply to about 5 schools in a normal year. This year, I have been recommending around 7 or 8. Students want to give themselves as many options as possible. 
She added, "Many schools are withholding more scholarship money this year due to the financial impact of COVID-19. If finances are an important factor for a particular student, then he/she would want to consider applying to more schools (because financial aid packages vary from school to school). Ultimately, I don't think the big issue will be being accepted into college. I think the bigger issue will be getting adequate scholarship dollars." 
When students plan for their post-secondary future, how they fit into a particular school academically is equally important to how they fit into its culture. This is why many college websites now provide virtual tours, giving students and parents an authentic campus feel without the hassle of visiting in-person. "For the virtual sessions, the presentations were extremely informative. Great information, excellent Q&A, and decent turnouts," Karim said.
All in all, students should make sure to put in time for meticulous research when contemplating their list of possible colleges. Karim recommends prospective college students to start their research early. He thinks it's critical for students to use resources at their disposal to determine their college of interest. 
The events over the past 11 months have transformed students' collective approach to college admissions. Prospective college students need to stay alert to all the latest news regarding their application process. With stress and anxiety levels at an all-time high, one has to be quick in adapting to change, embracing what can be controlled, and staying safe during these erratic times.
*Test-optional: Applicants can decide if they would like to submit or not to submit their standardized testing scores as part of their application. 
**Test-blind: Applicants can submit their SAT/ACT scores but colleges will not consider standardized testing scores when making admission decisions. 
Leave a Comment
About the Contributor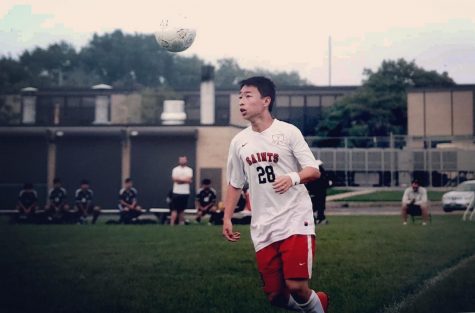 Kai Huang, Managing Editor
Kaiwen "Kai" Huang is a senior at St. Charles East High School and is the managing editor for The X-Ray. Since joining The X-Ray in 2020, he received a...