THEATER REVIEW: REFLECTING ON EAST'S FALL RADIO SHOWS
Following shifts from being remote to being in-person keeps theater members looking for new ways to showcase their skills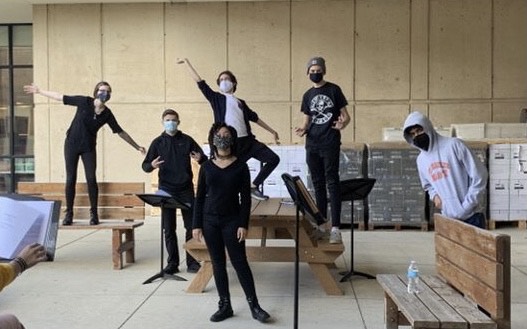 If you are curious about the East radio shows and how smoothly coping with Covid went, this is the "review" you are looking for.
When asked about their opinion on the radio shows one of the voice actors said, "I am so glad I got to be a part of the radio shows because I have a lot more appreciation for those who did real radio shows before. COVID felt far away when we were rehearsing. The show felt like a safe space to just forget about it and have fun. If it wasn't for John and the show, I would've been sad all the time."
I can only speak from my personal experience and what others have said to me, but I think similar feelings about the shows were going around. With quarantine just past the 9-month mark, people desperate for some normalcy and the radio shows managed to give that while still keeping us all safe. 
While next to everything else had changed, the cast and crew kept with tradition and brought back spirit week for halloween!
There wasn't a set per se, but we did have a pretty sweet set-up. With the actors lined up across the stage, staggered on risers, and sound-effect masters with their collections of sound machines, we were ready to get going. To support social distancing everyone was given their very own microphone, to be used with a mask and a lot of sanitizing wipes. 
Here's a little peek of what the set up was like for the first show:
Although there wasn't much physical acting going on, the video system (shoutout to Alex Pallan –computer extraordinaire) captured the actor's expressions. Finally, with myself and Tech Director, John Mizanin handling the sound recording system, we had a show.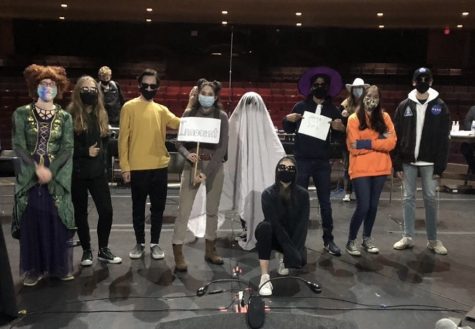 Voice actor Jayd Steinke remarked, "John, our director, had to go through so much trying to figure everything out like where we stream the shows, how we keep everyone safe, and just crazy stuff that no one expected to happen. He really got creative with thinking about how we can still be involved with theater without an audience or blocking (directions on where to stand or go while acting on stage), so he was like "'this year is the perfect year for a radio show!' And it was the most genius idea ever."
Given that the alternative was no show at all, creativity was necessary and came in abundance from everyone involved. 
With the cast chosen and the stage set, the voice actors were ready to warm up with "Dracula."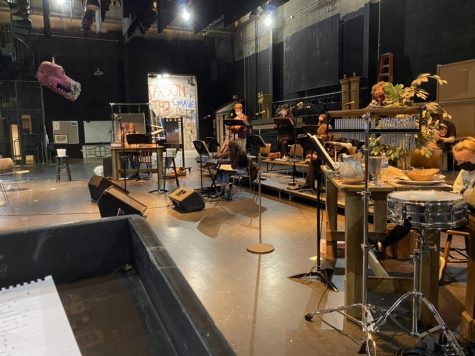 With all the unfamiliar things there were a few bumps in the road. Initially, there was difficulty getting the sounds effects to record through the various overlapping system. Fortunately, we got it working, otherwise, I don't know how we'd have coped without the spooky organ noises. The only major problem we had was when the audio file for the first act of "Dracula" decided to corrupt and become unusable. So from that, the only option we had was to re-do it.
All things considered, "Dracula" went somewhat smoothly. And the problems that we experienced would only add to the success of "Frankenstein." While no show is flawless, "Frankenstein" didn't have any files corrupt or any problems of the like, so we wrapped it up in a bow and sent it off to Youtube. 
Finally, the last show arrived. We wanted to go out with a bang, so we did two shows in one, just because. While the total amount of time was about as much as any of the others, the complexity was much more intense than before. The actors and sound effect engineers made it look easy, but they were all balancing 4 to 12 characters apiece. That also proved to be a challenge for yours truly when I had to juggle all the overlapping mics. With the first show, Repent Harlequin Said the TicToc Man, there were many scenes that had many overlapping voices to create intentional chaos. But despite the complexity, the voice actors pulled it off without a hitch.
I personally had a very different experience than all of the other members of the production, so I think it's only fair that you hear from the people who made it happen. While we did technically do four shows, all of them together only took about 6 weeks with both practice and recording. Another voice actor said this when asked about the time difference, "The radio show was a fever dream in itself. It felt like it went by so quickly but it really lasted 6 weeks."
With three mini-shows under our belts and an ongoing pandemic, we are going to attempt a production of the "Jungle Book" for our Winter Show. This time around we can set it up a bit with an actual set. As always, we're adding something special to our version, this time being the integration of shadow imagery and projections onto the set itself. There as still compromises being made and extensive precautions being taken, but East's theater department is back in business.
Leave a Comment
About the Contributor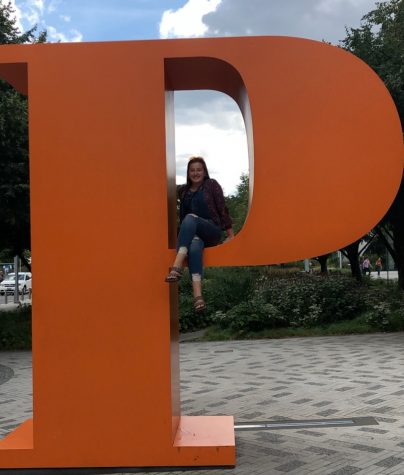 Peyton Smith, Staff Writer
Peyton is a junior this and a third-year member of the X-ray staff. She enjoys working with the newspaper crew, but if you are looking for her after school,...