Autos Classes Adapt to Pandemic-Era Learning
New resources and flexible structures help students continue to succeed
For many classes at East, remote learning can be implemented fairly seamlessly.
Students join their Google Meets to chat with their teachers, access their assignments via Google Classroom, and submit assessments through sites like AP Classroom.
But what about classes that require students to use materials that can only be found in the building?
What if you were in, say, a Woods or Autos class? Are you just supposed to go out and purchase a new saw or sedan to use for your class projects?
These types of hands-on classes have had to make unique adjustments during the age of COVID-19. East Autos teacher Thomas Straiker knows all about them.
In a typical year, Straiker would be in the classroom or Autos shop each day, helping students learn topics and applications regarding automobile maintenance.
In the classroom setting, Straiker said "We would work together on learning whatever the [Autos] topic is, whether it be safety or tools, or it's the systems of the car."
Straiker said his students would use the Autos Shop, or Lab, to apply the theoretical knowledge they learned in class.
Straiker said his students are engaged in applying knowledge of safety, tools, and vehicle service that they acquire through resources like textbooks, in-class discussions, and classroom activities.
"We come into the shop and [students] may do some identification things first, but then eventually they're doing the service of the car that we're learning," said Straiker. "Normally that's all done [at East], and now it's on a rotation basis," he said.
"Right now Auto I is doing oil changes on cars and Auto III is doing service related to the drivetrain of the car," said Straiker. For remote students, Straiker has worked to safely adapt some assignments for students to do at home.
"I've prepared several labs for students to pick up materials [for] and do from home," said Straiker, adding that he also included "How-To" videos for many of the at-home lab assignments.
According to Straiker, he was able to purchase resources to be sent home for students with the help of donations from local businesses.
"[We] got a bunch of donations from businesses in our town here to support students," he said.
"I was able to, with the help of student activities, package everything up for kids so they had a few different little kits of activities to do at home that would be at least hands-on and not 100% all computer-based," said Straiker.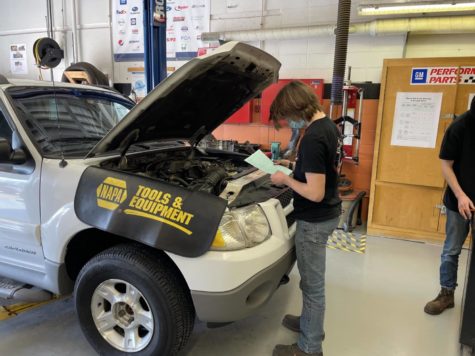 Straiker said that his first-semester remote students were given freedom in the tasks they chose to complete at home in order to gain credit for assignments.
"Based on their own home situation, their tools, their vehicle, their experience, they could do something and earn credit," he said.
Straiker said that some of his students conducted at-home oil changes, vehicle detailing, brake jobs, and under-the-hood inspections.
Additionally, in order to adapt his classes to fit the needs of remote students, Straiker located additional online resources that remote students could access from home.
"With the support of the school and the district, we purchased some online resources that are connected with certifications as well," he said.
"At least knowledge-wise, students have access to a much larger library of curriculum," said Straiker.
Straiker said he sees himself incorporating the materials and resources he has gained access to this year in his future Autos classes.
According to Straiker, he has been looking to incorporate some of these materials into his curriculum for years, but had never gotten around to doing so before the pandemic.
Straiker says one of the biggest challenges facing Autos classes is a lack of opportunities to have hands-on experience with vehicles. In a typical year, his classes would focus heavily on applying learning to actual cars.
"It hurts me because that's how I like to teach, [and] it hurts me because the students signed up to be in a hands-on course," said Straiker.
Another challenge has been managing remote and in-person students simultaneously.
"What I feel is most important when students are here[at East] is that I am supervising the shop and making sure things are getting done right, but more importantly that everyone is able to work safely… That's my number one priority," said Straiker.
Supervising the Auto Shop has been difficult while half of his students are remote. Straiker noted there are challenges to creating assignments that mirror the work in-person students are doing, as well as instructing hybrid students that may be at home on their assigned in-person days.
Overall, Straiker says teaching a hands-on class during the COVID-19 pandemic has come with many challenges.
"I couldn't say there's one big challenge … there's multiple big challenges," said Straiker.
That being said, Straiker is hopeful the coming months will provide his students with more opportunities to work in the shop.
With more and more students returning to the building for in-person learning, he believes Autos classes should begin to take their usual form, if only slowly.