Saints shut out Lake Park in season opener
Saints girls' soccer starts their season with a winning streak.
Dom DiPalermo
May 11, 2021
The Saints Girls Soccer Team started the season with a bang with their 10-0 shutout over Lake Park. 
This win was only the second game of the season, and it gives the team an optimistic start to this uncertain season. 
According to senior Jenna Sitta, the mindset of the team is very positive. 
"I feel very confident in the team, and I think we have a lot of potential to do great things," Sitta said.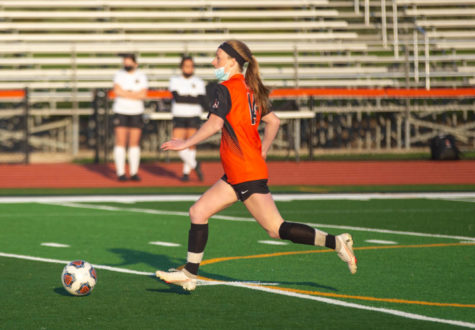 "I'm looking forward to working together as a team to win state and beat North, finally."  
The team is on track with a record of 5-0. The other four wins were against Fremd, Kaneland, Glenbard North, and Bartlett. 
According to MaxPreps, forward Hannah Miller started as "the player of the game" for the first two games. 
The title then switched to another forward, Megan Sreniawski, for the third and fifth games, and for the fourth game, midfielder, Mckenna Gahagan was owner of the title. 
The Saints not only have a 5-0 record but also a 2-0 record in the Dukane Conference where they are ranked first. 
Sitta said the team hopes to make it all the way to the state championships.