ATHLETE FEATURE: Giving Back by Guiding
When she was seven-years-old, Marley Andelman competed in her first triathlon on a "pink Barbie bike with streamers coming out of the handlebars." 
After that first race, she continued to train and compete, until that Barbie bike was a thing of the past. Her love for the sport, though, remains to this day. 
Currently, Andelman is a sophomore at East. She competes in seven annual triathlons through the MMTT Elite Team, a youth triathlon team with locations throughout Chicago's western suburbs. Andelman also participates in track and field and cross country at East.
"The more competitive and faster I got, the more I raced," Andelman said. Quickly, she began to see success in these races, "placing well" at the youth national triathlon every year from the ages of 8-12. 
She competes on the highest level of triathlon for her age racing girls aged 16-19 based nationally and internationally. One of her most memorable races was in Sarasota, Florida, this year, where she placed second in the nation. 
In addition to running, biking, and swimming in her own races, though, Andelman also has a unique opportunity to help others to do the same. 
"Although competing for myself is fulfilling and one of my favorite things, I also love to guide," she said. "I guide for visually impaired paratriathletes and impaired athletes alike." 
The organization that organizes this is Dare2Tri, a nonprofit in Chicago that works to help disabled individuals participate, compete, and excel in triathlons. According to Andelman, Dare2Tri has "produced many of the para-athletes you see competing in the Paralympics."
The most recent race which Andelman guided was the Chicago Triathlon. At this race, she ran with an athlete named Maggie Peters, a blind paratriathlete from Indiana. 
"I swim and run tethered to her, and we bike on a tandem bike," Andelman said. "The trust and communication you have to have is unimaginable."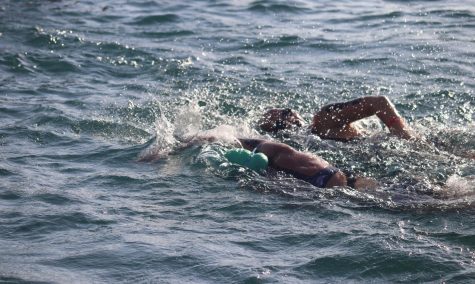 Andelman said that guiding is an incredible combination of her two passions: triathlons, and volunteering. "I hope to be able to do this for many years to come," she said, as it brings a lot of joy to her life.
In addition to guiding in the future, Andelman also noted that she had no plans to quit triathlons anytime soon.
"I am absolutely planning on continuing [to compete in triathlons] post-high school and college," she said. "My end goal is to go pro, and race alongside some amazing people all over the globe."