Students return to school amid COVID precautions and protocols
Masks on, and, before we knew it, we were walking into the first day of school, with a whiff of Clorox bleach in the air. Passing through the hallways of supposed familiarity, then suddenly getting lost. This was a feeling shared by many that day…
It's been nearly two years since East students and staff were all together. And with Covid-19 still lingering, there have been many changes to the school since March 13, 2020.
Masks were the most noticeable ones. Each day all students and staff have to wear them coming into the school. However, there are some students and staff who can be exempted from wearing them through the process of SHIELD testing. a screen testing program through a saliva test created by the University of Illinois. 
However, if you're unvaccinated and not enrolled in the SHIELD program there are 3 options for how you quarantine. Option 1: Quarantine for 14 days since the date of your last exposure. Option 2: Quarantine for 10 days after the close contact's last exposure and the quarantine can end after day 10 if NO symptoms of COVID-19 develop. Option 3: Quarantine for 7 days after last exposure, and it may end after the 7 days as long as there's NO symptoms of COVID-19 AND the individual has a negative SARS-CoV-2 diagnostic test that's collected within 48 hours of exposure.
There's also the new social distancing that's been put in place: 3-6 feet apart are the CDC guidelines that the D303 district is following. That's why I'm the lunch room and classrooms you'll find that there's been more single student desks to accommodate for the distance. 
Yet, this became a problem during class planning. Most classrooms tend to have the max capacity of around 26 students, so many schedules had to be reworked over the summer to fit both the student's desired courses and safety guidelines. 
As for last resorts, some classes needed to be relocated completely to a bigger classroom in the building at short notice over the summer. All of which was to support the students and staff there. It was quite the hassle for the faculty to be reworking schedules with the tight time limit as the school year quickly approached.
With more social distance, designated areas for eating and drinking have been created as well. The cafeteria and the hallways outside of the classrooms are open for eating and drinking. 
Now–from time to time while passing through the hallways or in the classroom, students will find themselves with friendly reminders to pull up their masks or put a little more distance between themselves.
As Principal Richter says, it's important that "your family knows that you're safe, and we're doing everything we can to keep you safe." Because if they don't, it'll be a butterfly effect. They want to make sure that everyone stays safe as much as possible while we attempt to ease into "normality", or at least the closest to "normal" possible.
Which is why it's important to thank those who were able to make this all possible. Mr. Jesus Monroy, or "Chewy" as many call him, and his crew have been working nonstop to maintain the state of the building. 
Without them, the building wouldn't be as clean and distantly safe as it is now. Mr. Richter himself brings around a tape measure to make sure desks are a safe distance apart. Mr. Monroy and his team are able to help him daily with the process. If not- it would've taken longer for the school to be prepped and ready for the next school day. They are one of the many heroes who put their effort in keeping both students, staff, and East safe.
As for others who aren't here, they've decided to continue doing online learning. Some students might have opted for online learning based on their medical needs or family situations at home. However, it's just not the curriculum in the school. 
The virtual learning this year is led by a separate company called Edmentum. Which already have online teachers, so we wouldn't be seeing the OWLs in class anymore.
Even though the lesson plans by the online teachers won't be the same as the teachers here at East, they'll still teach the same concepts. They're like a whole separate school. 
But these students are still able to participate in extracurricular activities and other school events despite being an online learner.
Leave a Comment
About the Contributor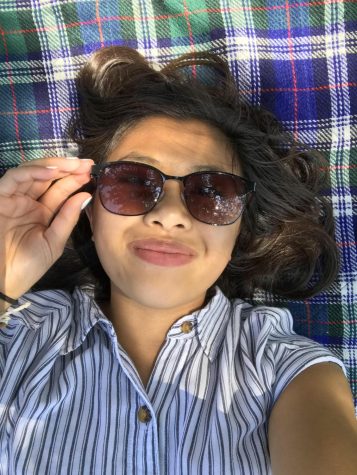 Chloe Ladines, Editor-in-Chief
Chloe is now in her fourth year on the X-ray staff. She likes to write news stories. She also likes to draw. She was planning to compete in the editorial...