"The Good Doctor" cast and crew thrilled to provide laughs for live audience again
After a year of fully virtual shows, the Norris Cultural Arts Center once again saw the live premier of a St. Charles East Theater production as the curtain rose on "The Good Doctor."
Senior Aaron Delaney was the lead in the show, playing the mysterious writer. He has been involved in East theater productions for four years. He described the show as "A series of vignettes by Anton Chekhov, set in early 20th century Russia."
"Each scene follows different characters in comedic sketches," Delaney said. The show is framed by a writer who reads stories to the audience from his study. Throughout the show, the writer presents each scene as one of his short stories. 
"Through sharing different stories and characters throughout the show, the writer rediscovers why he wanted to be an author in the first place," Delaney said. 
Due to COVID-19 restrictions, last year's productions had fully virtual audiences. According to senior Keira Denker, there were some concerns about how the show would be attended after a year without performances. 
"I was a little nervous that 'The Good Doctor' wasn't going to be very popular, since live theater had been on pause for over a year," Denker said. "However, I found the opposite. Audience members were so excited to enter the world of live theater again, and the show was very well-received."
Delaney said that there is definitely a difference between performing for a virtual audience and an in-person one. 
"The feedback from the audience was so gratifying to hear," he said. "To have people laugh at jokes, clap at the end of scenes—to address them directly as the writer—it was wonderful."
Denker also enjoyed the return of a live audience. 
"Not only was it refreshing for the audience, but also for myself," she said. "Stepping on stage and into my character in front of a real audience for the first time in a long time made me feel like I was home again."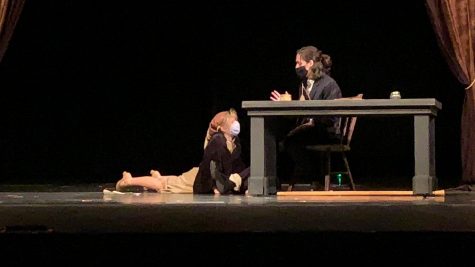 The actors wore masks throughout the performance. Though this made dialogue slightly difficult to understand at times, the safety of actors and audience members was more important. Delaney said that the show "tried out clear, plastic masks during the rehearsal process," which would have allowed the audience to see performers' expressions more clearly. In the end, though, Delaney said that "there ended up being too many issues with comfort and audibility." 
"'The Good Doctor' was also special as a production because of its breaching of "the fourth wall," Delaney said.
"There was one scene in the first Act where I, as the writer, took on the role of one of the characters in my stories: Peter Semyonich, the seducer," Delaney said. "It was really fun to interact with the audience and break the fourth wall, especially while playing such a flamboyant egotist."