Girls Golf takes a swing at state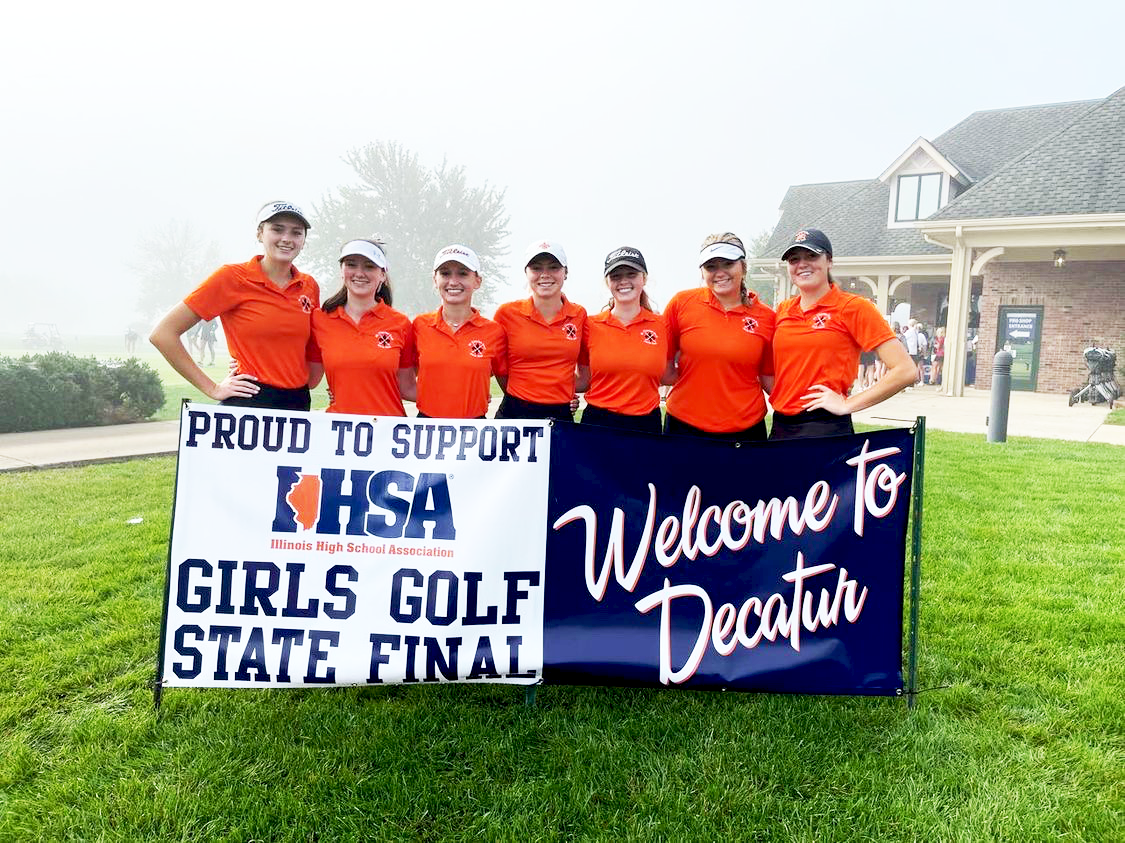 After a successful season of golf–coming in second at the Barrington invite and Conference tournaments, and taking first at the Rosary invite–the Varsity Girls Golf team was headed into the postseason with big hopes and a lot of hard work under their belt. Taking second place at the Conference tournament allowed them to advance to the Regional tournament, where they placed second and were able to move on to sectionals. Sectionals proved to be a battle for the Saints; they tied for third place with St. Charles North, and the tournament officials had to go to the fifth scorecard, Abby Buechele, for the tie breaker. The Saints won by two strokes and qualified for the State tournament.
That Thursday, October 7, 2021, the members of the State qualifying team–Emily Charles, Allison Edgar, Ella Tassone, Abby Buechele, Lizzy Anderson, Zoë Crane, and alternate Maggie Bell–loaded the mini bus and started on their way to the State tournament in Decatur, Illinois. For the State tournament, the players are all given tee times to play one practice round on Thursday to get to know the course and strategize. The real tournament started on Friday, and if scores qualified, went into Saturday. The saints played their hardest at the state tournament, but ended up placing 11th (out of 12 teams) on Friday and did not advance to Saturday. However, Emily Charles and Ella Tassone individually qualified for another round on Saturday. 
Even though the team did not place, the experience in and of itself is one they will never forget. Saints golfer Allison Edgar comments, "After Sectionals, it was amazing to just be able to go to state as a team." Her favorite memory from the state experience is "doing everything as a team, like going out to eat, playing practice rounds, and just being able to play the sport."