Ghoulish homes get us into the Halloween mood
Amongst the many fall activities going on in St. Charles this season, the Ghoulish Homes appeared across town just in time for Halloween.
An annual event, the Park District invites all community members to decorate the outside of their houses.
They open for viewing on October 14 and are subsequently judged on October 15. Each home is pinpointed on Google Maps and community members are encouraged to check out the festive homes and haunted houses.
A sophomore at East, Cassidy Woods, said, "I thought the decorations were really well done, and I enjoyed all the lights and how many of the house setups were inter-active."
From blocks away, screams echoed through the air as many families hosted haunted houses.
The Sumoski family hosted a haunted house on their property and will continue to run on weekends through the end of the month.
There were people waiting down the street, with cars filling every spot in anticipation. It won the award for Best Live Actors with several scary characters.
Some of the costumes that were included were a plague doctor, a clown, Michael Myers, and creepers on stilts that hid in between the many rows of corn in the maze. Even the people manning the front of the creepy house wore frightening attire.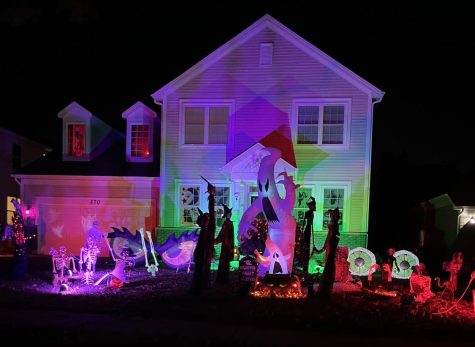 Even little kids were getting in on the fun with many begging their parents to go in again and again while claiming that they hadn't been scared at all.
On 3rd Street, you can see a pirate ship outfitted with a fog machine and other spooky ghouls. The Fortunado family topped their last year's theme of Beetlejuice with the creepy pirate scene and won the Judge's Favorite award. Overall, many homes were big on skeletons, ranging from normal sizes to over ten feet tall. One house was even decorated to look like the Haunted Mansion, with spooky projections in the windows.
Mr. Wright, a chemistry teacher who has lived in St. Charles since he was a kid, said, "My childhood home we decorated with like little characters (ghost, pumpkin, scarecrow) you stick in the lawn–nothing too big."
He added, "My current house, we have purple, orange, and green lights, two skeletons chilling drinking coffee on our rocking chairs, a witch hitting a tree, and some cute monster trick-or-treater dudes."
Updated 11/29/2022.