Scarecrow Festival provides East family pet adoption opportunities…three times!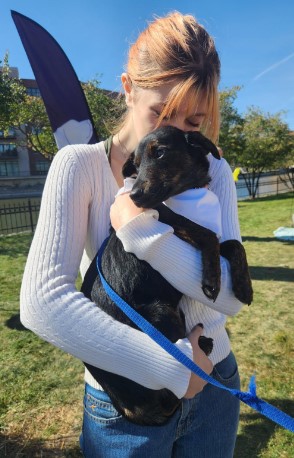 One heartwarming Scarecrow Festival story comes from a family who has attended the event for the past 11 years. This story centers around a side feature of the festival–the adoption events. As part of the non-profit organizations involved, there are many ways to adopt a pet through the Scarecrow Fest.
My family is that family, who considers the Scarecrow Fest an integral part of the Fall season and attends the adoption events every year to visit the animals.
We have adopted through the fest twice before, the first time being in 2012, a mutt named Daniel. Renamed Buddy, he quickly adapted to his new life in a family home, after being
found on the streets by an organization called Paws 4 U 4 Ever.
Six years later, when we attended the fest, the organization Paws 4 Life had hosted the main adoption event. We left happier than we arrived, holding a little puppy named Hannah. When we brought her home, her name was Maisy, and Buddy had a little sister.
This past fall, I was determined to convince my parents to buy another puppy, although anticipated being let down. But when we arrived at the booth, my parents made a beeline for a little black puppy, who was asleep in the carrier's arms. She handed me a 4-month-old puppy named Yenny, and when I held her, she tucked her head under my chin and curled up in my arms. My parents knew what this meant, and that day we went home with Luna, my new puppy.
The Scarecrow Festival provides a great opportunity to rescue animals, from rabbits to dogs. This family's story is just one example of the traditions and memories established by the festival.