Pop, Fizz! East Alumni start local craft soda business
Sunset Soda is a local craft soda business started by former East students Frank Schniffer and Josh Carnell. The pair met in a photography class, located in E164, in their sophomore and senior years. Eventually, the two would work together to launch their small business in 2014.
Though now a co-founder of an independent company, Schiffner didn't necessarily have a high school success story.
"I didn't do too well in school. I felt like academically I was not going to go far. And I had a lot of big ideas," said Schiffner. "That's when you take [matters] into your own hands and say 'I'm going to do it myself.'"
Schniffer graduated high school a semester early in 2013 and eventually walked with his class for the ceremony in the following year. Despite the challenges, Schiffner's academic struggles throughout high school fueled his desire to create Sunset Soda with the help of Carnell. "As long as you have a good idea of what you're wanting to put out there and stick with it, it's just time and luck," he said.
Originally, Sunset Soda was named 161 Brewing after East's E161 Photography class but was eventually changed to Sunset Soda when the brewing name called more attention to beer than to soda.
The soda brand's first flavor, "Short Shorts," is an horchata rootbeer made with rice milk, almonds and cinnamon. They also currently distribute a hibiscus-pomegranate flavored soda named "Poolside."
In the next few months, they plan on releasing "Call Me Shirley,''  a Shirley Temple inspired soda.
You can get their sodas at Coroco and Pollyanna brew- ing in St. Charles and Penrose and Art History in Geneva. In the next five years, they hope to expand to many more breweries in the Chicagoland area, though for now you can find them at sunsetsodaco.com.
Interestingly, their sodas are packaged in glass bottles and cardboard cases as opposed
to harmful plastic, which goes along with the nostalgia of Schiffner's childhood and the magic of Sunset Soda. "[Being eco-friendly] it's more for a peace of mind for what I create and put out in the world," Schniffer said, "I see the future of Sunset Soda being a green company that will help more than it takes whether it's from the earth or its community."
In the Geneva-based production facility, vintage soda bottles decorate the front walls
separating the office and the production room. Schniffer said, "I really wanted our brand to sort of be like back to basics. These [vintage] sodas didn't taste like the ones that Coke and Pepsi are making now… They probably tasted a lot more like ours."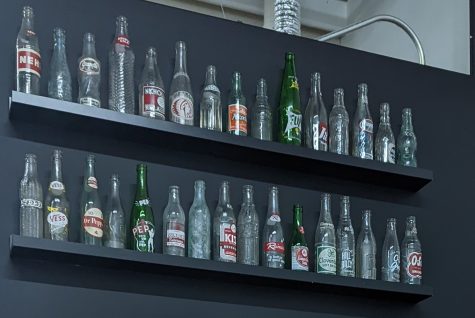 Something else that sets Sunset Sodas apart from other craft soda companies is the artwork depicted on the labels. Each contains a piece of original artwork by a freelance artist from Barcelona.
Overall, the story of Sunset Soda contains a message that can be inspiring for many East students; a message that you don't always have to take the conventional route when it comes to your future after high school. Pursuing your dreams can be fulfilling despite struggles encountered encountered along the way.