The ISO's "Big Game" closes out season with some big time fun!
Cheers could be heard throughout the gym as the ISO Big Game of 2023 took place, featuring East's Special Olympic basketball team as well as the boys and girls varsity teams on Wednesday, Feb. 1.
Many fans, including staff and students, came to cheer on the team with posters, pictures and of course an "orange fever."
With performances by East's marching band and dance teams the night was filled with entertainment, including a special performance by Project Dance, a nonprofit organization that helps to raise funds and awareness for individuals with special needs.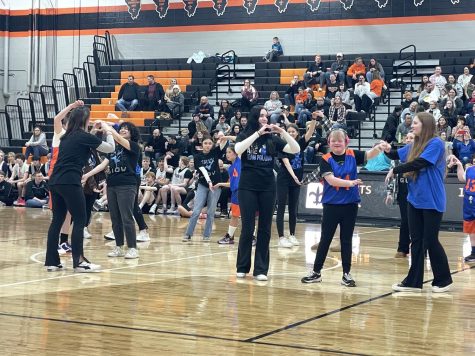 "It feels great out there, you know the energy and the fans…I appreciate every single person that comes to our game," said East freshman Nate Borrico, #23 on the Saint's Special Olympics Team.
Another athlete, junior Vanessa French, (#4 on the team) explained how excited she gets while playing on the court: "I scored like 10 points and I play out there because my friends are there and like my family and friends are there… [it's a] good hobby and so fun."
Senior George Alcantar (# 50) added, "I like to play…I like to win."
ISO started at East in 2003, a way to include people with intellectual disabilities in different sports.
From basketball to bowling, ISO at East brings students together by emphasizing what it means to be a team.
"This game I think epitomizes what Special Olympics really is all about, it's about everybody recognizing that we can all be together," said Head Coach Donna Wisely.
Wisely has been coaching the ISO basketball team since 2014. Having a background in athletics and finding joy in helping others, coaching has been a highlight in her life.
"Most athletes are excited to be part of our teams. Many athletes have a great sense of humor and/or are happy people. These qualities make me want to be around them."
"We're in a world where inclusion is important in all aspects and Special Olympics International over 50 years ago, started the movement to include people with intellectual disabilities," explained Wisely.
"So the more we can do at the local levels in the schools, in the park districts, private programs, the more people get involved and the more the rest of the world knows that they exist and they have strengths and they're people too and they belong."
The evening included performances by the dance teams, a raffle, t-shirt sales and concessions.