With Mr. Straiker, Auto Club provides opportunities for learning and competing
When East Autos teacher and Auto Club Advisor Tom Straiker began teaching at East in 2001, the school offered two auto-related courses: one on auto maintenance and another focusing specifically on small engines.
Since then, East's autos program has expanded, now including Auto I-III, Power Equipment Technology and an Auto Club.
When students expressed the desire to create an auto-focused club, Straiker volunteered to be their advisor. "It was somewhere around 2002 [when Auto Club began meeting]" said Straiker. "And it just grew from there."
At meetings, Auto Club members may work on a variety of tasks—ranging from simply exploring the shop, working on the ongoing "Project Mustang" or bringing in personal vehicles to perform maintenance on.
Jesus Castellanos, a junior at East, joined Auto Club last year as a sophomore. This year, he became an Auto Club leader.
"My favorite part [of the club] is being able to teach, learn, and discuss Auto-related topics [with] a very knowledgeable community," he said.
Working alongside other student leaders and advisors Tom Straiker and Jonathan Kittl, Castellanos said, "With all of our knowledge combined, we create a better club for everyone."
In 2016, Auto Club's Engine Challenge Team was born: A group of students who would compete alongside other high school teams in timed engine construction challenges.
"We were able to keep the team going, off and on, but roughly a whole team [has been] going every year since," said Straiker.
The team works on a Chevy 350 small-block engine, striving to disassemble and reassemble its parts in as little time as possible for competitions.
On Dec. 18, the team competed in Hot Rodders of Tomorrow's 2022 Dual National Championship, marking the first time the team was Nationals bound.
Senior and Auto Club leader Sidney Maloney joined the team last year as a junior. She competed with the team for local competitions in South Elgin and Parkland leading up to Nationals.
"We got, I think, 48 minutes or 53 minutes at South Elgin. So, that means we didn't qualify [for Nationals]," she said.
By the Parkland competition, the team was able to shave off a significant amount of time from their assembly, qualifying them for the Nationals competition in December.
"We got 32:56, and the qualifying time [for Nationals] is 33 minutes," said Maloney.
The team competed in the National Championship at the Performance Racing Industry (PRI) Show, the largest racing show in the world, held annually in Indianapolis. Over the course of two days, teams competed in several waves, racing against the clock to disassemble and reassemble a Chevy 350.
Each team's top three times were then averaged and, alongside a "written test," used to determine placement, according to Straiker.
The top 10 teams from the initial playoff round then advanced to the final playoff round, used to determine their final standings.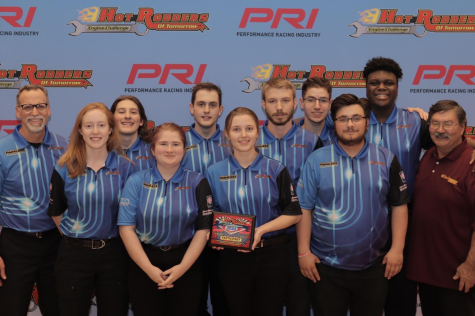 Competing alongside teams from 29 other schools across the country, East's Engine team finished with a time of roughly 27 minutes, ranking them 17th at Nationals.
Although the team did not make the cut for the final round, Straiker said, "We [Engine Team] are pretty happy. It was the
best time we've ever had for competitions."
Straiker is set to retire this year after his 22nd year teaching at East. He described his feelings leading up to retirement as "bittersweet.
"A lot of things will be missing from my life that are there everyday," he said.
However, Straiker said he is "looking forward to getting back in touch with the rest of [his] life unrelated to school or the auto program."
Kittl, who began co-advising Auto Club this year with Straiker, said he is open to maintaining his position in future years alongside another advisor.