WINTER PLAY SHOWCASES TROUPE'S TALENT
East's Winter Play, "Shakespeare in Love," running for three days, was not only an absolute emotional rollercoaster mixed with poetry, but also an exceptional performance by East students.
The play had the audience shedding tears, especially with the intensely emotional performance by junior Meredith Musial, who played Viola De Lesseps.
With more than 10 weeks of long rehearsals, two days for tech rehearsal and one day for dress rehearsal, the cast and crew out-
did themselves with this performance.
The play, as the name suggests, is about William Shakespeare being in love, and just like many works by Shakespeare, this play was filled with tragic romance. The play started with a stressed Shakespeare on a deadline with no inspiration, until a performance before the Queen by Viola De Lesseps, the love interest, inspired him.
What started with Viola, dressed up as a man, auditioning for "Romeo" turned quickly to a secret romantic affair, at the same time of Viola's arranged engagement to Lord Wessex.
From Viola finding freedom and a way of voicing herself through acting on the stage, Shakespeare escaping his writer's block, to Viola leaving Shakespeare behind because "[his] words could never be mortal," this play provided plenty of emotional appeal.
The complexity of this play contributed to the difficulty of performing it. As said by Musial, "The biggest difficulty was the mental drain… [It is] so chaotic with so many ups and downs, and [she] had to mask them all. One scene, [she is] helplessly in love, in the next [she is] heartbroken, in the next [she is] a man, the next [she is] stabbing [herself]. Having to scream and cry and emote everyday was definitely tiring."
The sheer dedication East students put into this play was evident in their performances, to the extent that it became difficult to distinguish whether their emotions were real or not.
Musial shared how the first time she practiced the scene in which Viola was supposed to leave, "[she] started crying right then and there." She added, "There is something so powerful about the love Viola had for all these people and she'll carry it even when she's an ocean away."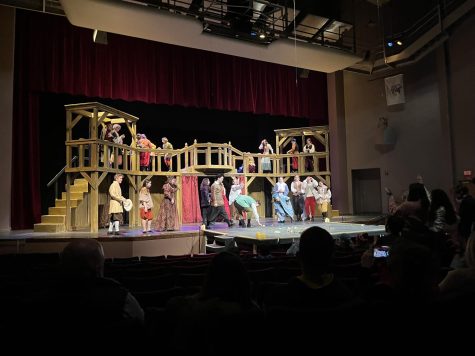 It has been almost a year since a show with a set this large had been created at East, making it very difficult to build the set.
As Ellen Jahoda, the stage manager, said, "[the actors] also had to do sword fighting, singing, and dancing which usually isn't seen in a play." She added how the actors "had to rehearse the fights before every show and had to take multiple lessons from a professional." Not only was performing a challenge, but the dancing, fighting and singing scenes were additional challenges. Jahoda gave shoutouts to the fight captain (Fiona Florizoone), dance captain (Hannah Wojcik) and singing captain (Parker Moran).
One of the many challenges faced during the production of the play was the costumes. Parker Hannah described how they had to "make a slideshow of what [the program] needed" for costumes. They also wanted Viola and the other de Lesseps to wear red to encapsulate the Capulets' traditional color."
Viola had 15 quick costume changes, and "[Parker] became [her] personal costume person" who managed to effectively put all of this together.
There was also a humorous scene of the Queen huffing when her servants couldn't push a platform on stage.
Jahoda said that the platform "kept accidentally hitting a wall on the set, but the actress who played the queen played it off very well, so some people that saw it thought it was intentional." It added more humor to the play along with multiple other scenes—like the one where William, eager to meet Viola, was trying to climb a wall but immediately climbed down once he saw Viola's nurse standing on the top.
The crew did an outstanding job portraying everything from the emotion in Viola's screams to lovesick William citing Shakespeare's "Shall I compare thee to a summer's day."
Adding to the challenges presented by the show were the many references to other plays like "The Massacre In Paris" by Christopher Marlow, who was played as "Kit" (played by sophomore, Dean Bellizzi) in the play, and the modified reenactment of "Romeo and Juliet" by Shakespeare himself.