Speech Team's Ava Larson advances to State
East had one qualifier, junior Ava Larson, the first to go to State since 2019 and only the third to go ever.
"I think it's crazy! This is my first year doing Radio Speaking, and it's just so weird to go, and see how happy the coaches are to be going back to State, because it's something they've gone to before […] it just feels crazy. I think that's the only word I can think of to describe how I feel. Mind blown."
Larson took home second place at the regional tournament in Rochelle and third at the sectional tournament in Dekalb.
In Speech, performers can choose from 14 different events, ranging from dramatic to humorous.
Larson's event is called Radio Speaking. "Radio Speaking is when you get a packet with a bunch of news stories, weather stories and sports stories, and you have to cut it all down into a five-minute radio broadcast. One of the most important things in Radio Speaking is the time, it has to be around five minutes, and you also want to be really clear and enunciate your words so it feels like a genuine radio broadcast that you would actually hear," Larson said.
When asked her goals for State, Larson answered, "Just go and not cry! […] one of my coaches said that 'you've already climbed the mountain, and all this is just the cherry on top.'"
Larson also said she'd like to go to State again her senior year, either for Radio Speaking again, or for her Dramatic Duet with junior Madison Duddles, an event the two advanced to sectionals with this year.
"I just want to go to State again, because in my mind if I went this year, I can only improve for next year. So I'm treating this in my head like, 'this is practice State. This is seeing how it all works.' It feels crazy. It feels giant. I'm getting all those feelings down and next year, hopefully it can be the state that goes just amazing and we all do great."
Larson joined the Speech and Acting Team her sophomore year. "It opened my eyes to this entire new world," she said.
"Speech is such a supportive team," Larson said. "I would die for all of the people on this team. I've never had a community and a friend group that was so consistently supportive of one another. Even if we were competing in the same event, it never felt like we were going up against each other. At our home tournament my friends Lauren [Slater], Jen [Hubbard] and I all did Radio, and one of my favorite pictures ever is us just standing up on the stage to get our awards, all holding hands; […] at that moment to me, it did not matter if Jen or Lauren– who had done this for like, a day– got first and I got like sixth. It did not matter anymore in my head. I was just like 'I'm up here with two of my favorite people in the world, and that's all that matters.'"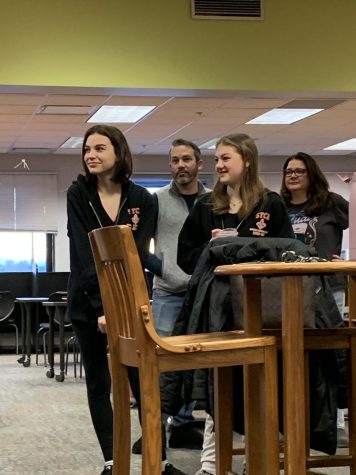 One X-Ray staff writer, also a Speech team member, was allowed to attend State with Larson, fellow teammate Madison Duddles and Speech Team coaches Amanda Hayes and Zenna Daker.
Competitors receive a sendoff in the LRC before the school day starts, before being ushered onto a bus for the three-hour ride to Peoria. Once there, competitors have no time to relax, with only a few moments to freshen up their appearance before rushing off to their round.
Upon finishing, as well as sticking around to hear everyone else's speeches in their round, competitors are free to leave for that day.
Competitors from far away schools, such as St. Charles East, typically stay in hotels near the civic center, as their next performances are early the following morning.
From there, it's a long wait to see who placed in the top six for their event, and advanced to the final round. This wait is filled with the civic centers' pricey concessions, watching performers from all different events and schools finish up
their preliminary rounds and this year, the whole waiting area breaking into the Electric Slide spontaneously, as opposed to a cutthroat competitive environment.
Speech head coach Amanda Hayes said about Larson qualifying, "I'm so proud of Ava for qualifying for State in Radio Speaking. It was a complete surprise for us because it was Ava's first year in Radio Speaking. But as soon as she read her first script, I could tell this was going to be a strong event for her.
I always had a gut feeling she was going to make it to State her senior year, so for her to do it a year earlier was a pleasant surprise."
To anyone who is thinking of joining Speech and Acting but is too scared of public speaking to do so, Larson says, "If you're thinking about joining Speech, and you're worried that it's going to be too overwhelming, […] I think that for me, joining Speech actually helped me overcome the anxiety that I feel during public speaking because when you start off, you are doing it in front of just your coaches, just your teammates, and then you start branching out, and you just do it with a couple judges and a few other people. […] it's not until regionals even that you're really like 'oh my God, there's people who are actually going to come and watch me.'"
Larson took home 11th place for Radio Speaking.