Boys Wrestling is Victorious at State
St. Charles East's Wrestling team finished their victorious journey at State, returning home with their first State Championship title.
With two State tournaments, 21 wrestlers were brought to State with 11 qualifiers, nine place winners, five finalists, and ultimately three State champions.
"We get to add another title to this gym wall," said Head Coach Jason Potter.
East went up against Marmion Academy in the championship round of State, ending finishing with a score of 28-24.
"This was the most successful wrestling season in St. Charles's history," said Potter, "and is the first time we have been ranked in the top 25 nationally."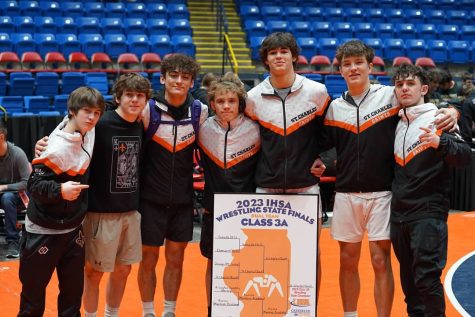 Despite the win at State, the wrestling team faced some challenges leading into the competition.
"We needed to learn to wrestle as a team and how to manage dual meets," Potter said. "We knew we had a ton of individual talent but we needed all members of the team to buy in and know how they could contribute. In the end, all of the members of the team brought value to the team and helped propel us to our first state title"
The team's hard work and dedication throughout the season helped prepare them for State. "We train really hard and actively seek out the toughest competition," said Potter.
"We left the state of Illinois multiple times to make sure we found our guys the toughest competition. Finding these big moments during the regular season prepared us for the pressure of the post season and a state title run."
Senior AJ Marino, who placed third during Individual Wrestling State Finals, described his routine leading up to State, "I practiced super hard and worked out extra to get ready," said Marino. "[I] watched films on [the] kids I was gonna wrestle and worked on a game plan for them."
"Leading up to state was a very stressful time," said junior Christian Wilson.
Wilson wrestled with the team in the Dual Team Wrestling State Final tournament on Feb. 24 and 25.
"[I was] thinking our season could be over if I lost, but after many talks and hours of preparing on the mat and making the best pre-match playlist, I was ready," added Wilson.
Wilson, along with senior Wrigley Schroeder, who also wrestled with the team at State, competed against top opponents and "fought for their team to keep us in the hunt," said Potter.
"Without this fight, we would not have won,"he added.
According to Potter, the most challenging duels that the team faced were also the ones that brought the team the most success leading up to State Finals.
"The most memorable and suspenseful dual meets [were] against Mount Carmel in the quarter-finals and Marmion Academy in the state finals," said Potter, "Both duals were against top 30 teams in the country and they came down to the final bout."
Wilson and Marino described the excitement of the Mount Carmel Quarter-Finals dual.
"My favorite moment at state was getting a close match with my Mount Carmel opponent and seeing the crowd's reaction to us winning the close dual," said Wilson.
Marino said his favorite moment was "when Austin [Barrett] and Dom [Munaretto] pinned for us to beat Mount Carmel"
Freshman Dom Munaretto, junior Ben Davino and junior Jayden Colon placed first for their weight classes during Individual Wrestling State Finals.