East Senior Joey Wilbur releases self-written and produced album "hopeless (romantic)"
hopeless (romantic), an album written and produced by senior Joey Wilbur, was released on March 17, 2023. The excitement of the album was quickly followed by an album release party that doubled as a birthday celebration for Wilbur on Sunday March 19, 2023.
The party was held at Illinois Aviation Academy in West Chicago and was opened by East sophomore and singer Addison Taylor-Bujak.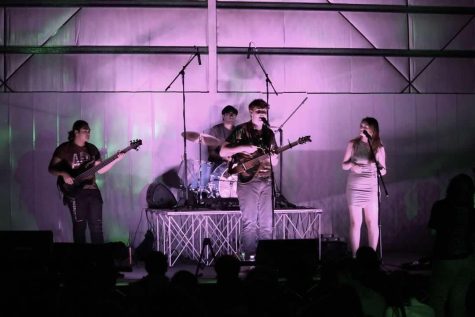 Junior Marykate Scheossling sang backup vocals for Wilbur and they were accompanied by Junior Jessie Lazenby on bass and Ian Jake Robleza on drums. 
Wilbur said, "It [the album] kind of takes you through a story… it starts with a happy song and it ends with a song called 'Closure' which is kind of about reflecting on everything and how everything is gonna be okay." 
The largest challenge of hopeless (romantic) was figuring out the recording software. Wilbur remarked on how he started his album in January 2022, using the help of Youtube to learn the Logic Pro software. 
Wilbur's music journey started at 10-years-old when he and now a fellow senior at East decided to start a band. He received a used acoustic guitar for his birthday and from there he was inspired to not only be able to play but also write his own lyrics. 
"I started writing songs, they weren't very good, but I started writing and it kind of just took off from there," he said. 
Wilbur has taken guitar lessons at Sunrise Music Studio LLC in St. Charles for 8 years. This is where he first performed in front of a live audience. Wilbur played "Learning to Fly" by Tom Petty at the Arcada theater during a Sunrise Music Studio recital. After that he frequented open mic nights, often times at Arcedium Coffeehouse. 
"I used to [get nervous]….when I first played that open mic night at Arcedium, I was so nervous when I went up on stage," Wilbur said. 
However, performing  became natural for him over time and the nerves went away. During the summer, Wilbur does shows downtown St. Charles almost every other week. 
One of the highlights of his album release party was during his song "pink & blue" which is the 8th track of 10 on hopeless (romantic). 
Wilbur said, "When I was playing my song 'pink & blue'… almost everyone turned on their flashlights and it was super cool to see them wave them around….Whenever I go to concerts I'm always like 'man that probably looks so cool from stage,' and I finally got to experience it myself."
Wilbur is still deciding whether to attend Belmont University in Nashville, Tennessee for Music Business or Berkeley College of Music in Boston, Maine for Songwriting.