Prom and Post Prom provide fun times
Held at the Oak Brook Hills Resort on April 29, Saint Charles East added to the school year with another successful prom. With the theme being 'Enchanted Forest,' students did not disappoint in going all out.
"[The best part was] probably seeing everyone dressed up and taking pictures," said East junior Leanna Swenson.
"I wore a light pink dress with silver embroidery…the trend was mostly mermaid dresses and black tuxedos."
After the dinner and dancing at Prom, many students also headed to the tradition Post Prom, which quickly became for many the main event. Students can attend without attending Prom. With bouncy houses, karaoke, fun games and good food, the late night event was definitely a hit.
The theme being 'By the Shore,' many cool decorations included crazy club lights, rainbow-colored paper and even live fish. East's PTO is in charge of the event.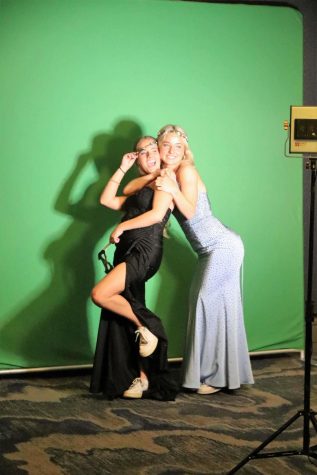 "They had like a giant octopus and SpongeBob on the walls, it was crazy," said East junior Caleb Yedor, who enjoyed Post Prom with his friends."I enjoyed taking photos at 7/11. I thought that was pretty cool."
"They illuminated the commons with a blue light to add an oceanic atmosphere," said junior Megan Kamysz."On the inside it didn't look like East."
With East's 2023 prom being the last for this year's seniors, many could say it holds special memories for them."I'm going to miss getting ready with my friends," explained Macias."…first it was an excuse to be very fancy and take pictures, the drive there was really fun. Being with each other for a long time was really fun because some of us can't hangout."
"I think for everyone the best part about Prom was just the getting ready, like the build-up," added Osborne.The evening included dinner and dancing. With the green screen provided, students could create their own personalized backgrounds for their group photos.
After the Prom ended, many students headed back to East for the traditional Post Prom event. Games and prizes were highlights. Students did not have to attend Prom in order to attend the Post Prom event.