East Drama Club's "Legally Blonde": Legally memorable too!
The Drama Club at St. Charles East High School once again showcased its talent through its spring musical, "Legally Blonde."
Running from April 21 – 23, the three shows of the musical made audiences roar with laughter and loud applause throughout the entire show.
The musical followed a Delta Nu sorority girl, Elle Woods, played by Mary Kate Schoessling, who followed her ex-boyfriend, Warner, who was played by Chris Florio, to Harvard Law.
As Schoessling also said, "Legally Blonde couldn't have been Legally Blonde without our behind the scenes crew!"
Indeed, lots of the cast and crew members spent most of their Spring Break making the set. It was not only the backstage crew, though.
"The cast helped move set pieces onstage while the crew helped out with curtains and quick changes, so everyone in this show got lots of experience in all aspects of live theater," said Schoessling.
Parker Hannah, who was the Costumes Head, revealed the process of the costume selection, said, "The actors contributed their closets, ordered from Amazon [and] Broadway Costumes in Chicago."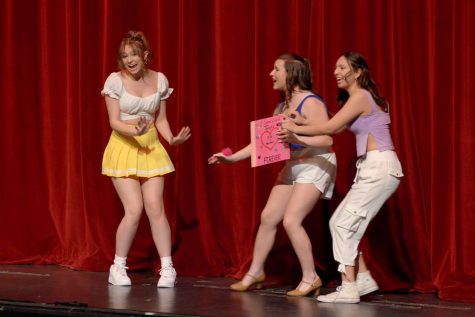 While the backstage crew was busy making the show come alive, the Delta Nu girls and Schoessling were busy polishing their voices for the vocally demanding musical.
Schoessling mentioned "every morning, [she] drank emergen-C… to help boost [her] immune system" so she would not get sick! In addition to that, she also confessed that she had to go on vocal rest, where she does not talk unless she has to, so she could save her voice for the shows.
Florio also said, "to be a successful actor or singer, it definitely takes discipline, but more importantly, you have to be able to listen well and improvise."
Act 1 opens with the song "OMG You Guys" followed up by Elle and Warner's breakup "Serious," which was very seriously performed by Schoessling and Florio. After the break-up, "What You Want" sees Elle studying for her LSATs, leading to Elle and Warner's reunion on the Harvard Yard.
Soon, Elle finds out about Warner's new girlfriend where the legendary "Every tragedy needs a Greek chorus" line is said, followed by the song "Positive."
Schoessling praised the Delta Nu girls, saying "they had so much choreography to learn and some intense harmonies."
"[Meredith Musial] put so much hard work into this show. She was the main choreographer in the first few weeks and all of her dances ended up looking amazing onstage!" said Dorothy Hocker, one of the Delta Nu girls, also praising Musial's performance of Serena McGuire.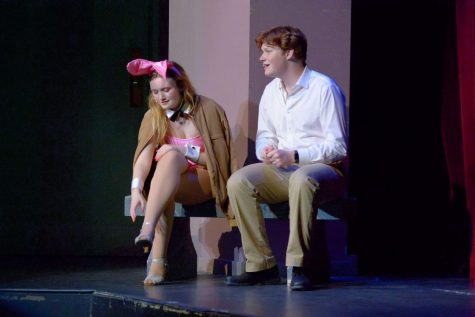 This act also follows a despaired Elle getting a makeover, along with befriending Emmett Richmond, played by Joey Wilbur.
Previously only interested in trying to get Warner back, Elle's character ends up helping Paulette win her case by law, and falling in love with Emmett.
Act 1 ends with Elle getting a prestigious internship, and Warner proposing…to Vivienne Kensington.
The whole act was especially difficult, as Ellen Jahoda, the Assistant Stage Manager, said, "it had a lot more set pieces to move, most of which were only used for one scene."
"What doesn't kill us makes us hotter" is how the Delta Nu girls responded to Elle's broken heart in Act 2. The elegantly performed "Bend and Snap" was a part of this act, and Hocker mentioned how admirable and humorous the song was: "I'd break character every time [Kyle O'Boyle, Paulette's love interest,] came onstage, the audience always loved it and it never failed to make me giggle."
Another iconic song was "Gay or European" in the courtroom where Elle shows her intellect and wins the case. Matthew Brunson, who played Nikos Argitakos, whom the song revolved around, said the purpose of his character "was to bring unexpected comedy to what seemed like a serious courtroom scene."
The humorous scene is immediately disrupted when the Professor grabs Elle and kisses her.
Schoessling commented that this was the hardest scene for her to play: "This is where Elle realizes that Callahan never hired her because of her talents… [it was] the way she looked… It was most hard for me to mentally take this scene on, because I had to be so vulnerable on stage."
She reflected further: "Assault is such a mature topic, that unfortunately many women can relate to. I remember the first day we ran through this scene, I just became so overwhelmed and uncomfortable, but of course with time and support it became a lot easier."
Hocker also commented on how one "can really feel all of Elle's pain and struggles as her world collapses," adding that it was "heart-wrenching."A once-again-broken Elle decides to leave Harvard, after she won the case.
At the graduation, Warner proposes to Elle, but the budding love between Elle and Emmett comes to play and Elle proposes to Emmett.
Legally Blonde was not only Legally Blonde, but also legally memorable and successful.
Not only were the cast members immersed into their characters, but Schoessling said that she and Elle have very similar personalities in real life: "we both love the color pink, so it was super cool to showcase myself in the character!"
But, the show couldn't have been legally successful without the audience.
"Anyone who came and saw the show, thank you for supporting the arts!!" said Hocker.