Girls Track qualifies for state competition
East's Girls Track Team qualified for State in the 4×800 meter relay and 1600 meter run at Sectionals on May 11.
Seniors Claire VanLue, Lauren Lewison, Morgan Sandlund and junior Marley Andelman qualified for the 4×800, with Andelman also qualifying for the 1600.
The 4×800 clocked in with a time of 9 minutes, 28.04 seconds, placing them second at Sectionals and one of the
handful of teams to make it to State this year. Andelman took first place in the 1600 at sectionals.
Last year, the Girls Track Team qualified for the 4×800 and placed fifth overall in finals. "Our 4×800 team qualified last year," said VanLue, " so [Coach] Kaplan had made that our goal at the beginning of the season to get back to state." VanLue has run with East's track team since her freshman year. "I am super excited [that] I get another race with my team," VanLue said.
"The energy will be high and the teams there will definitely push us to do our best." The girls worked hard to achieve their placing in Sectionals and qualification for State.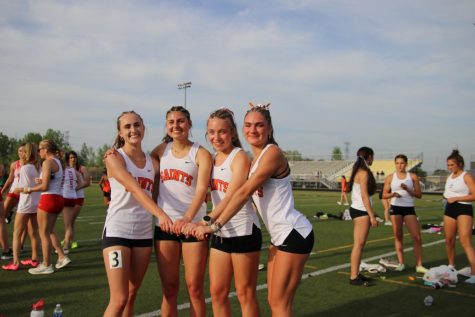 "We focused on splits during workouts in the weeks leading up to our championship season to build up our familiarity to the speed we would need to run at these important meets," said Andelman., "Aside from the physical training, just
reminding each other that we are capable of running with the best was also crucial.". Alongside the 4×800 relay, Andelman is also running the 1600 meter run at State. "I'm excited to be running two races this year," Andelman
said.
"It's going to be a hard double but i'm ready for it. It's so surreal being able to race twice at the biggest meet of the
season."
Andelman was also one of the runners in the 4×800 at last year's state competition.
The girls will be competing this week at State from May 18-20.
Their send-off will be this Thursday at 6:45a.m in the LRC.