On Wednesday, Aug. 30, St. Charles East's Drumline performed their annual showcase at the end of Small Games. This year, they turned the lights off to reveal LED lights all over the players and their drums, lighting up the gym.
Students in the stands watched as the drumline walked on playing the cadence 12 Dollars. In the middle of the cadence, the drumline suddenly stopped and signaled to staff to turn the lights off. One by one, the gym went dark as all the players were revealed to have LEDs attached to them and their drums in their class colors, instantly lighting up the gym in an array of colors. As the drumline continued the cadence, students in the bleachers turned the flashlights of their phones on and waved them to the beat, creating a constellation of lights that illuminated the bleachers.
"I was really confused at first," said junior Ellie Jahoda, who was in the audience at the time. "And then I saw the lights on the drums and I thought, 'Oh, this is gonna be sick.'"
"My favorite part of the performance was probably when the lights went out and everyone got their phone flashlights out," said sophomore tenor quad player Madison Klaput. "The phone lights made the performance feel so much cooler."
They went on to play a cadence called Shock, in which they marched to a rehearsed routine. In it, both the snare drums and the tenor drums had instrument features that players encouraged the audience to clap along to. At the end of the cadence, the lights turned back on to conclude the glow in the dark section of the performance.
Afterward, the drummers participated in drum battles against each other, going head to head with another drummer in a battle of the classes. Notable solos included junior Wyatt Snopko, who played all four drums throughout the course of the battle and senior snare players Devin Reder and Nolan Franzetti who each employed the help of other marching band wind players to accompany their playing. Reder had a group of seniors dancing around him, and Franzetti ended by throwing chalk into the audience.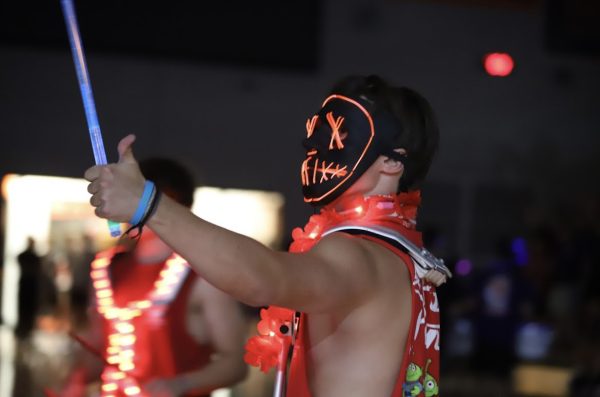 "I'd say [my solo] went pretty well," said Franzetti. "The senior section had a lot of fun with it. It was cool to see everybody get hyped up and jumping around."
The drumline walked out playing a cadence called Kanye to end their feature.
"I think the performance went very well," said junior snare player Mel Merrel. "We had so much creative liberty, and even though we had a very short amount of time to prepare and practice, I think we made something really cool that we got to share with the student body!"
Rehearsals for Small Games started just the Friday before the performance, meaning the group had less than a week to create and refine their feature. Players also had the responsibility of purchasing their own glow in the dark/LED accessories to correlate with their class colors.
"Rehearsals were tedious and hard to organize, but we were able to be productive when people showed up," said Reder, who has been the drumline captain for the past two years. "With the short notice of homecoming week in general, everything felt fairly rushed."
Nonetheless, Reder said he feels good about how everything went. "I think that this was by far the best performance we've had as a drumline. The lights shutting off was something that worked out really well and I was glad the LED show turned out the way it did. Overall an experience to remember, worked out great!"