Got hammer and nails?
Woodworking Club carves a name for itself
If you've ever ventured down the D-wing hallway, you might have noticed as you come to the underpass, there are a series of secretive rooms to your right.  As you pass by, you might have been lucky enough to steal a glimpse into one these classrooms through the tiny metal-reinforced windows on their doors.
You might have seen what looked to be an auto-shop, a computer lab fit for spy movies, or even a maze of saws and wood planks.  It's a dimly lit part of the school that invites a sense of mystery and suspicion.  What actually goes on in there with all that machinery?  And who gets to go on in?
One answer is the new Woodworking Club, which has found a home in the D142 woodshop. That's right folks, East's lineup of clubs just got a new addition. It joins Careers in STEM and Future Doctors of America as the newest science and technology related clubs here at East.  
As it turns out, the idea for Woodworking Club has been in the works for quite some time.  Science teacher Ben Provencher is the one of two advisers to the club, along with Woods teacher Jarod Gutesha, and says he first conceived the concept about four years ago.
Provencher had been building small pieces like radiator covers and shelving units for his aging home and wanted a space to share his interest in woodworking with students.  Seeing that the previous Woods teacher wasn't seeking to run a club in addition to classes, Provencher took things into his own hands and began asking around if students would be interested in his idea.  
Eventually things took off as more and more students demonstrated a desire for the club.  "It's not [necessarily] that it takes 4 or 5 years, but we don't have a ton of time to dedicate to these endeavors," affirmed Provencher.  This fall Gutesha took over the school's Woods program and gave Provencher the support needed to officially start the club.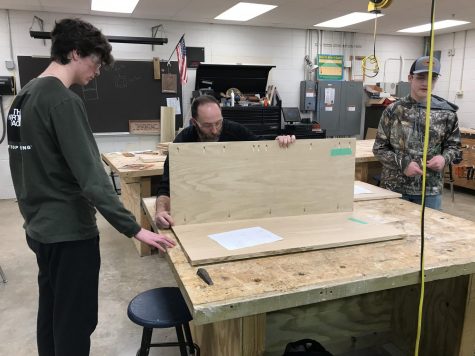 But the club would not have come to fruition without the help of one especially motivated student, senior Evan Barett.  Barett, as it seems, is the backbone of the club.  He has been involved since the beginning when Gutesha first approached him about serving as a leader within it.  "The club really took off with Evan," said Provencher.   
"I wanted to start the club because I really love woodworking and wanted more time to enjoy the skill with a group of people who were similar minded," said Barett proudly.  After presenting his plan to Mrs. Dandre, Barett helped rally other Woods students to join, and the club saw rapid growth.  
"The process was fairly easy," he said of establishing the club, "[when we met], Mrs. Dandre was very supportive and offered up suggestions on how to make it happen."  
You might be thinking to yourself at this point, why do we need a club when there's already woodshop classes?  There is an important distinction to make between the two.  While Woods classes during the school day focus more on individualized projects, Woodworking Club is more concerned with more ambitious team projects that are voted on by members.
This is not necessarily a hard and fast rule, as some students still use the club's meeting time as a sort of extension time to work on projects for their classes, but generally all members are expected to contribute to the group project, which has the aim of giving back to the East community.
"Our goals [for the club] are really two fold–we want to be able to build projects for our school and community that are useful, durable and add value.  We also want to provide the opportunity for students to work on their own projects to develop their skills and techniques," said Provencher.
To that end, the club has already begun work on a newspaper stand for The X-Ray so that students are better able to access the publication when it comes out.  The project has tested the group's technical skills and encouraged them to work collaboratively to make sure all the cuts and holes line up properly to create a sturdy product.  
Barett has served as the leader of the group.  Other club members look to him when they walk in the door, and he coordinates the division of the group into smaller teams that each work on their own component pieces, which in the end will be assembled together.  The newspaper box was originally projected to be done in May, but has been pushed back due to school closing during the coronavirus pandemic.  
The club members currently use basic skills that mostly consist of power tools like saws, sanders and drills.  But going forward, Provencher and Gutasha are looking to focus on more technical abilities and make greater use of hand tools, which require more skill and patience, but yield a more intricate product.  
Barett welcomes all newcomers, and encourages novices to join when school starts back up.  He admits that "many of the other members are better at woodworking than me…[but we all] have a passion for woodworking and continually strive to improve our skills."