In-depth: Civil Rights Issues
St. Charles Police Department Responds to Recent Racial Tensions
The United States is experiencing a history-making period of civil unrest.  Although in previous years there have been some demonstrations over racial discrimination, the killing of George Floyd by a Minneapolis police officer on May 25 catalyzed a new–and much bigger–wave of support for ending institutionalized racism.  The Washington Post even went so far as to claim America was experiencing a "Racial Reckoning."
As anti-racist self-education became a trend during the summer months, support for groups like Black Lives Matter on social media greatly increased.  The PEW Research Center reports that on May 25–the day of Floyd's death–there were roughly 218,000 tweets containing the #BlackLivesMatter hashtag, but by the time protests began in Minneapolis on May 28, nearly 8.8 million tweets were sporting the same hashtag.    
That virtual support was mirrored in the massive wave of protests that overwhelmed the country.  Millions took to the streets to express their discontent with the criminal justice system and racial discrimination by police.  A June 2020 poll from Civics Analytics estimates that between 15 and 26 million US citizens participated in demonstrations during that month.  That would make these protests the largest in the country's history.  
Some protestors have fiercely condemned the police.  Black Lives Matter is a particularly ardent opponent of law enforcement.  The group accuses police officers of using a variety of overt and implicit tactics to perpetuate inequality, and cite a list of unarmed black men and women killed by officers as evidence.  The killing of individuals such as George Floyd and Breonna Taylor by police are some of the most high profile of these cases.  They have even called for a nationwide defunding of police.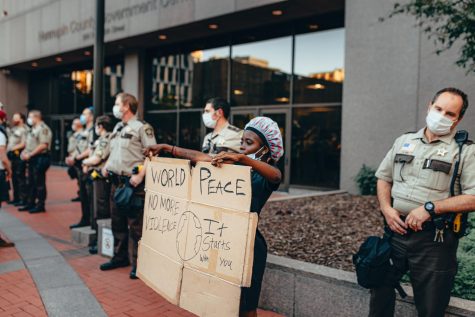 In response, law enforcement agencies across the nation have committed to improved training and sensitivity to racial issues, as well as a review of existing policies.  The St. Charles Police Department is one of them.  
"We have had some demonstrations, and people have exercised their 1st Amendment rights," said Police Chief James Keegan during an interview.  "It's definitely a different time in America.  There's a lot of civil unrest across the nation, but here in St. Charles we really try to be transparent about what we do."
One of the police department's efforts at transparency is to increase the public's awareness of the policies and procedures that officers use on a daily basis.  Following George Floyd's death, the force created a new page on the St. Charles City website to outline their commitment to the community.  It affirms that the department has "zero-tolerance" for racially biased policing and that its primary mission is "to provide public safety for all of [St. Charles'] citizens, no matter race, gender, sexual orientation, or religious beliefs."
The force uses a number of different methods to ensure these policies are followed.  Training serves as a particularly important pillar for upholding the department's values.  
Every officer that is hired goes through 14 weeks of training at the Suburban Law Enforcement Academy at College of DuPage in Glen Ellyn.  There, prospective policemen are educated in such things as combating implicit bias, de-escalation techniques, and cultural sensitivity–topics that are mandated by the Illinois Law Enforcement Standards and Training Board.  
After that, the new recruits come out to St. Charles and complete a 14 week period of field training service, in which they shadow a veteran officer on the job.  At the closure of those 14 weeks, a new officer is allowed to go out on duty on his own. 
The training doesn't necessarily stop there, however.  Keegan says officers are constantly refining their skills through in-service training.  The department often brings in actors to roleplay suspects so that officers can rehearse the proper techniques and procedures to use in high-pressure situations.  Recently, they even purchased a simulation system called VirTra, which allows officers to virtually train for dangerous situations like a high speed chase or an active shooter.  
"We pride ourselves on having one of the most robust training programs in the area," said Keegan.  "Although law enforcement has evolved through the years, we're definitely not a day late and a dollar short."
There are also certain policy measures that the department has adopted to prevent situations from escalating to an unnecessary level like we saw in the George Floyd case.  The St. Charles police prohibits chokeholds and other moves to restrict breathing, for example. All uses of force are reviewed by the Police Department command team in order to judge whether or not they were justified.   
Additionally, every year the department allows a third-party firm to scrutinize all of its files, documents and body camera footage. This ensures its procedures reflect the best practices for the industry.  The department received National Accreditation from the Commission on Accreditation for Law Enforcement Agencies (CALEA) back in 1989, and has upheld high standards ever since.  "We're pretty proud of that," said Keegan.  
Overall, it seems most people in St. Charles support the police force rather than oppose them.  Keegan says there was an "outpouring of support" from the community after the recent incidents and statistics on the department's web page state that 91% of residents ranked their services highly in their 2020 residential survey.  
"We're here to serve all our residents.  We treat everyone with respect and dignity," said Keegan.  "If people give us the time to answer their questions and concerns, I think they'll come away very impressed with how we do business."   
This is the first part in a series covering racism and other civil rights issues in America.  Stay tuned for future coverage.