Decision 2020
East Students Eye the Election
It's no surprise that we have an important presidential election next week. Some say it's the most important election in modern history. This country has faced tense exchanges between different sides of the aisle through activism, social media, and during political processes, but what does the election look like currently and here at East?
Donald Trump, the incumbent president, is running for his second as the Republican candidate. Joe Biden is challenging him for the White House as the Democratic candidate.
Regardless of the candidate you're voting for, there's definitely a lot at stake this election.
Biden aims to expand the Affordable Care Act, increase taxes on wealthy citizens, and deal with the COVID-19 pandemic.
Trump's goals for a second term include passing tax cuts, releasing his own healthcare plan and keeping the economy open during the pandemic.
The primaries, which happen before the general election, decide who is going to be the nominee from each party. In the Republican primaries, no prominent candidate challenged Trump for the nomination. However, in the Democratic primaries, over 20 candidates raced for the nomination.
The top candidates for the Democratic nomination were Biden (Former Vice President), Bernie Sanders (Senator-Vermont), Elizabeth Warren (Senator-Massachusetts) and Michael Bloomberg.
In both of the parties' primaries, there are delegates from each state who represent voters' choice and elect the nominee of choice. During the Democratic National Convention, Biden, as presumed, won the majority vote and became the Democratic Nominee. Now the fight for the White House is between him and Trump. 
Illinois has voted for a Democrat in every presidential election since 1988 and is considered a safe win for Biden this year, averaging 14.9% higher than Trump as of October 28th, 2020, according to FiveThirtyEight.com.
Looking more locally, Kane County has voted for a Democrat three out of the last five elections and a Republican for two out of the last five elections.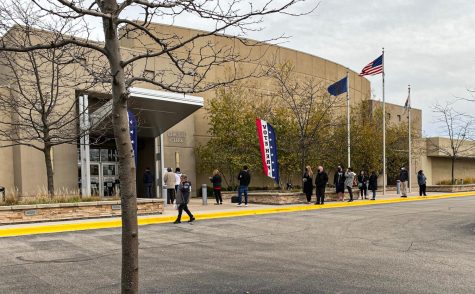 On November 3, citizens will head to the polls in hopes of swinging their state in favor of their preferred candidate.
Currently, most national polls show Biden leads Trump by high single digits. The website Realclearpolitics.com, which averages a number of polls, estimates Biden's national favorability as 7.1% higher than Trump's as of October 28th, 2020.  Biden is consistently leading in key swing states like Arizona, Florida, Michigan, Wisconsin and Pennsylvania–all of states Trump won in 2016.  These polling trends have been fairly consistent since the spring. The extent of Biden's lead has fluctuated, though. 
The first presidential debate took place at Case Western Reserve University in Cleveland, Ohio. The vice presidential debate took place on October 7 between democratic nominee, Senator Kamala Harris and Republican nominee, Vice President Mike Pence, followed by a second presidential debate.
We saw typical views from both candidates, with  Trump affirming his "Law and Order" approaches, attempting to combat violent demonstrations around the country and Biden discussing his "Build Back Better" approach, which aims to lift up the economy and middle class after the COVID-19 recession. 
At East however, X-Ray conducted its own survey on October 16 asking about candidate favorability, issue importance, and source of impact on views.  Students of all grade levels had a week to respond to a series of questions regarding the election.
The survey found that of the 206 East student participants, around a quarter of all respondents were from each class. 65.5% of poll-takers favored Biden, 26.1% favored Trump, and 8.4% said others, which included Libertarian Jo Jorgensen and Green Party candidate Howie Hawkins.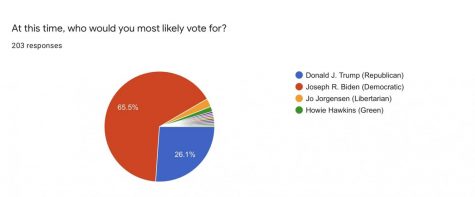 The most important issue to East poll-takers was COVID-19, followed by civil rights, the environment, healthcare and gun ownership issues. Write-ins for this section included "Women and LGBTQ+ rights" and "Judicial nominee appointments."
The poll also collected data on what factors contributed to respondents' views on political issues.  The source that was most often credited with influencing their views was family (27.6% said so), followed by news media, social media and the community. 15.4% of respondents wrote in their own responses, saying "all of the above", "my own research", and others.
Freshman Tyler Kay described his support for Donald Trump saying, "I support Donald Trump because he is a great person, and it is proven that he has done more in 47 months than Joe Biden in 47 years." Kay also believes Trump will have a comeback in the polls and swing the election in his direction for a second term.
Kay elaborated on why this election is very important, stating, "I think this election is very important since we are going through a pandemic." Some of Kay's most important issues in this election include the coronavirus, healthcare, Supreme Court appointments, and the economy. 
Junior Kira Drozdik described her support for Biden saying, "I support Joe Biden. I may not agree with all of his policies, but of the two candidates, he is definitely a better choice."
Biden's progressive environmental policies and equitable treatment of minorities impacted her leanings:  "I'm much more comfortable leaving the rights of marginalized groups (especially those of the black and LGBTQ+ communities) in his hands."
Drozdik says she is not too sure who will win this election. She she hopes the youth vote, marginalized groups, veterans, and anti-Trump Republicans will help Biden, but she is hesitant to predict either side will win because of Trump's 2016 victory after the polls favored Hillary Clinton in the days just before the election.  
"I think this may be the most important election in most of our lives", Drozdik said. She fears if Trump is elected, many women may lose reproductive rights, the LGBTQ+ community may lose marriage equality, and people of color may face more discrimination. She thinks, in addition to these issues, taxation of higher income citizens, climate change, and healthcare are some of the most important issues.
Drozdik, along with many others, agrees that young people face a duty to get out and vote: "We need to take action and fight for the things that we find important, otherwise it could be detrimental to our society."