In-depth: COLLEGE SEARCHING
Seniors and staff share their experiences with the process
For many high school seniors, the college search comes with a lot of stress, starting with tests and college applications. For most, one of the hardest parts of the college process is starting the application process, but it doesn't have to be.
Getting Started?

There are two main ways you can go about applying. First is through the colleges' websites. If you are only applying to a few schools then this is a good option for you. Every college has their own website and their own application process. By being on their website you get to learn more about the college and potentially plan a visit.
Second is through Common App. Every student at East has a Common App account where they can apply to all of the colleges of their choosing in one place. If you are a student that struggles with due dates and/or organization then Common App is the place for you.
Also, if you are applying to a lot of colleges, then Common App will help save some time. The App will show you everything that needs to be done for every college you're applying to. This is very helpful because you don't want to waste your time searching through every college's application requirements. By having it all in one place, one essay can be used for multiple applications, which also helps you save time. The App shows due dates for every college whether it's for early action or normal.
Second semester of senior year is a crazy time. People are finally hearing back from colleges and making their final decisions. School work also gets more difficult.
Because of this, applying to colleges before Nov. 1, or the early action deadline, is a big help. If you don't have a lot of time, at least pick some of your top schools to apply to with early action. That way the most important ones will be done. Not only will you hear back from colleges sooner, you won't have to worry about finishing applications while you're trying to finish your last year of high school.
Have you seen posters and categories about financial aid and FAFSA in the CCR Updates? Essential and aiding to the college funding process, but often overlooked by students erroneously thinking they were ineligible, FAFSA and other financial aids are highly important in your college process.
But what are they and to what extent do they help you?
What's a FAFSA?

What is FAFSA anyway? The Free Application for Federal Student Aid (FAFSA) is the online application that allows a student to apply simultaneously for federal student aid (including the Pell Grant, work-study opportunities and federal student loans) and the Illinois Monetary Award Program (MAP) grant. In addition, many colleges and universities use it for their aid programs.
Three years ago, The Illinois General Assembly's Public Act 108-180 made it a graduation requirement for all Illinois public high school students to complete either the FAFSA or the Alternative Application for Illinois Financial Aid (Alternative Application) as a prerequisite to receiving a high school diploma. According to data, over 60% of the East High School Class of 2023 have already met this graduation requirement.
A question many students might have is "what are the chances of receiving FAFSA aid?" Matthew Gill, Assistant Principal for College and Careers at East, said that "you really don't know until you apply."
The good thing is that while income and assets determine your eligibility, so do things like number of students in the family and the age of the parent(s). If your family makes too much to qualify, FAFSA can still be helpful since it is needed for work-study, an AIM HIGH grant from any Illinois Public universities or a federal student loan. Your college may also offer aid based on your FAFSA info, too.
On top of that, some scholarship programs use the FAFSA information and because of this, it is also essential to complete the FAFSA as early as possible.
This information from FAFSA can be used for opportunities that come up later, and also if family circumstances suddenly change.
But is FAFSA all there is?
"Loans and grants are other ways to help defray the cost of tuition," said Gill. He explained that Stafford loans are more common while subsidized loans are need-based. Unsubsidized loans, though, are open to everyone. What helps is that parents can also take out loans for their students.
A lot of students also work a part-time job to help finance their education, but as Gill said, "it is also important to remember to keep the work hours reasonable because when a student works more than 20-25 hours [per] week, their academics typically suffer."
Besides all of these, there are other money-saving options. Mindful spending along with "your personal decisions" can help you save money.
To illustrate, Gill emphasized making a budget and sticking to it; stating it comes down to prioritizing needs over wants. Do you buy a Starbucks or do you make your own coffee? Do you make your lunch or do you eat out everyday? "It comes down to these personal decisions," Gill said.
How to Decide?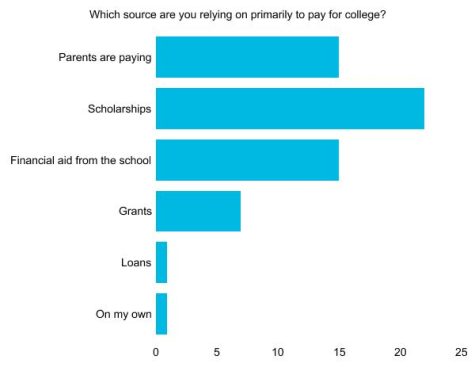 Of seniors who took a survey X-ray sent out regarding college searching, 91.7% are applying or have applied to either a 4-year university or community college. For many, the process of selecting a college to commit to is a tedious and stressful process. Many go into the application process with a lineup of schools to consider, while others only have one or two dream schools they apply to. When deciding which college to commit to, there are many factors on seniors' minds.
According to the survey, though having limited responses and, therefore, limited data, the most important factors in deciding which college to attend amongst those who filled it out were the location of the school, the program of study, and the affordability of the school. With college today being an expensive investment that is a huge financial burden for many families, especially ones sending more than one child to college, it makes sense that many students would be taking grants, scholarships and financial aid from the schools themselves into consideration. Of the respondents, 76% shared that they have applied for at least one scholarship.
Feelings of stress that come with the application process are no secret at East. Some reported feeling "impatient" and "[wanting] to be able to consider all [their] options," while waiting for decisions to come out. Some students even applied early decision, which may be beneficial in "[putting] you ahead of the game and [showing] the schools your genuine interest." As many experienced counselors will tell you, just completing the Common App can take hours.
While many are choosing between colleges right now, a handful of students chose to take a gap year or enter the military or workforce after high school.
One respondent planning on a gap year said, "I'll most likely use the time to kind of collect myself and just get a hold of everything. It's been a wild four years and I haven't had the ability to really figure out what I want to do, or who I want to be in the next few years."
Our survey indicates that about 76% of students who took it are done applying to schools, but there is still plenty of uncertainty surrounding college decisions. Some seniors shared tips regarding admissions at competitive schools and applying for scholarships.
"Early action gave me a higher chance of getting into the highly competitive program I wanted to get into at each of the schools I applied to," a senior shared with us through our survey. Some expressed wanting to "commit sooner than later" and wanting a "better chance at scholarships given to you."
Deciding which college to attend may seem like somewhat of an easy concept on paper. In reality, it is a much more complicated process that requires a lot of time, effort and perseverance. Though students may have different drives for what motivates them to choose a school to attend, in the end, it may be safe to say that most students are just trying their best to do what's best for them and their futures.