IN-DEPTH: Local women reflect on their experiences in the workforce
"We hold these truths to be self-evident: that all men and women are created equal." It has been 174 years since pioneer Elizabeth Cady Stanton declared this at the first Women's Rights Convention in 1848, yet gender inequalities are still prevalent in society.
Each year, March is dedicated to acknowledging the influential women who have shattered glass ceilings. From civil rights activist and poet, Maya Angelou, to climate change champion, Greta Thunberg, the gender that was once prohibited to vote is now internationally recognized for their contributions.
Beginning in 1978, Women's History Month originated in Santa Rosa, California as Women's History Week. This celebration soon gained traction nationwide and communities across the country declared their own Women's History Week. In 1980, following successive lobbying, President Carter nationally recognized the holiday. Seven years later Congress declared March as Women's History Month.
Since this victory, much progress has been made for women's rights, however certain gender inequalities continue to plague society.
In the restaurant industry, females continue to face unequal opportunities and unfair treatment from customers. According to Forbes, despite the fact that "women in the United States represent more than half of all restaurant workers and servers…female employees accounted for only 19% of chef positions."
Uncomfortable encounters with customers don't make their job any easier. According to One Fair Wages, over 70% of female workers in the restaurant industry have been sexually harassed at least once.
Opposed to the female-dominated restaurant industry, the number of women holding roles in government positions do not accurately reflect women's portion of the population. The 2021 Global Gender Gap Report published by the World Economic Forum ranks the U.S 30 out of 156 countries on the Global Gender Gap Index. Although the U.S has closed nearly 100% of the educational attainment and health and survival gap, a large disparity lies in political empowerment. The U.S has closed 32.9% of this gap.
Furthermore, although there was a record number of women elected to the U.S Congress in the past election, the growth of female officers in the law enforcement sector continues to stagnate. According to the U.S. Bureau of Labor Statistics Report of 2021, females made up 30.4% percent of the nation's correctional officers and jailers. During the peak of protests following the death of George Floyd, former police chief in Newark, New Jersey,  Ivonne Roman, told CNN a major reason behind the increasing demand for female law enforcement officers, stating that "Statistically, [women] do not escalate; they de-escalate [situations]."
**********
A part-time summer job turned into a career in corrections
Mom of two East High School alumni and current elementary and middle school students, Donna Schoenenberger worked at DuPage County Jail for 30 years. What began as a part-time civilian booking officer job while studying criminal justice soon transformed into a career she loved.
Although she entered college planning to become a lawyer, an early experience as a deputy quickly changed her mind.
While working, there was an inmate "who was in jail for killing her mother," Schoenenberger said. "I had to open the door when the courts let her go free. That was the day I decided I didn't want to become a lawyer because I didn't believe in our legal system."
Since that day Schoenenberger has held roles as a Deputy, Sergeant, Lieutenant, Major, Chief of the Courthouse, and Chief of DuPage County Jail.
The main part of a deputy's day consists of checking on inmates in the receiving area every 15 minutes.  This is where inmates are for the first 24 hours until they go to bond court.
"You have to make sure that they're living, breathing, and not attempting suicide, which we have had," she said.
"After that, the inmates are fed three meals and you have to make sure they have their showers and things like that. If you're working with females, you have to make sure they have feminine products." said Schoenenberger.
Schoenenberger explained the difference between a county jail and a prison, stating that inmates in the county jail are pre-trial, meaning "they're there until they go through all the court proceedings and a sentence is determined." Sentences that are 364 days or less are served at a county jail, otherwise, inmates are held in a prison.
Although her profession is a male-dominated field, from her experience everyone works together. "You're all stuck in this building. You're stuck with all these criminals, and you have to have each other's back," Schoenenberger said. "For the most part, they're all a family."
Schoenenberger noted a strong need for mental health support among inmates and officers. "We have inmates that are severely mentally ill and they're not treated. They're just maintained," she explained.
"When they come off their meds the inmates start acting out and fighting. [Officers] give them Thorazine which knocks them out for 12 hours. That's all they do."
She described this cycle with one particular inmate. After he returned from a mental health facility he had improved drastically. However, the court remanded him back to jail until the next court date. This meant that for "30 days he [was] off his medications and deteriorated back to where he was."
Schoenenberger also emphasized the need to support officers. She described a vivid memory of hers when she was 23 years old. "I was driving home and it hit me. I'm going home and none of these inmates are," she recalled. "It was surreal. You have to separate yourself from the job." However, doing so is not easy.
In her career, six officers committed suicide. "That was the hardest part of my job," she said.
Why continue working in such a challenging career field? "I enjoy going to work. Some days were difficult and challenging, but I always loved it," Schoenenberger said.
*******
From wearing a hard hat …to being a diplomat
As a former Project Engineer and Israeli Diplomat, the career journey of East Civics teacher, Allison Valentine, has enabled her to experience the hurdles that come with being a woman in the workplace.
After graduating from Purdue with a double major in political science and history and a minor in communications, Valentine began working as the Project Engineer for Walsh Construction's heavy highway division in Chicago.
As the liaison between current projects and the federal and city government, "I was dealing with the politicians of City Hall all the way down to the foreman," said Valentine. However, her office was the job site, meaning that she had to quickly adjust to the male-dominated industry.
This meant that she often had to adapt to their rough and vulgar vernacular to be taken seriously and considered one of the guys. "It's hard because as a woman, you were absolutely treated differently. You were spoken to differently," said Valentine.
She elaborated on the cutthroat nature of the industry, stating that you "either plant your feet and demand 'No, this is how you're going to speak to me and treat me,' or you don't survive in the field."
Valentine attributes part of her and her coworkers' success to the fact that they were all intelligent, independent, and strong women. "We would call you out if we thought what you were saying or how you were treating us was unacceptable," she said.
A few years later Valentine earned her master's degree in international relations with a specialty in nuclear power politics in London, landing her a job with the Israeli Embassy. Her role was to help ease the diplomatic strain between the British and Israeli governments.
Valentine explained the situation that led to high tension between the two countries. "There had been an assassination of a person who Israel deemed as a terroist leader," said Valentine.
The Mossad agents (Israel's intelligence agency) who traveled to Dubai to carry out the assasination "had traveled on legitimate British, Australian, and New Zealand citizens passports," she said. "They weren't fake identities. They were stolen identities of people who had never traveled."
Israel's actions violated international law, thus increasing the already negative opinion that the majority of the British had on Israel.
Valentine noted how she was unquestionably in the minority at her job, as "90% of the workforce were Israeli," she said. "There were a lot of British-Israeli dual citizens or they were expats, [meaning] Israeli citizens living in England because of their spouses."
She also pointed out the cultural differences, stating that British culture is heavily based on male authority. Throughout this career, Valentine encountered differences in how men and women's actions were perceived.
"A strong woman is seen as being aggressive," Valentine said, yet "if a man is having the same discussion they're assertive. They're strong."
Her advice to girls entering a male-dominated industry? "Separate the criticism from how somebody's perception of you is versus whether or not you've done something wrong."
Leave a Comment
About the Contributor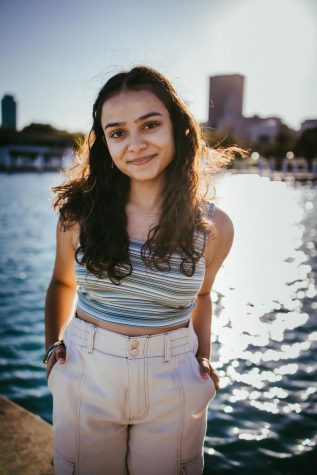 Serena Thakkar, Features Editor
Serena is a senior who has been a part of the X-Ray for all her years at East. She is the Features Editor and her favorite part about X-Ray is  learning...