Covid-19 Vaccinations Begin In Kane County
The availability may be slower than some would like as the state and the county work through the distribution phases.
Phase 1 of the COVID-19 vaccine distribution is underway in Illinois—and more specifically Kane County. 
Per the recommendation of the CDC's Advisory Committee on Immunization Practices (ACIP), Illinois is following a phased approach to vaccine rollout. This approach prioritizes the vaccinations of people most at risk for contracting COVID-19. 
The first stage of vaccine distribution—Phase 1A—provides vaccines to frontline healthcare workers and residents and staff of long-term care facilities. Phase 1B then allows frontline essential workers and people 65 and over to receive vaccines, according to the Illinois Department of Public Health (IDPH). During  Phase 1B, essential workers at the highest risk for contracting COVID-19—including teachers, first responders, grocery store workers, and others—will be able to receive the vaccine.
Details regarding vaccine distribution in Phase 1C and Phase 2 have yet to be finalized. But possible groups for Phase 1C include other essential workers and people aged 16-64 with conditions— including diabetes and cancer—that increase the risk for severe complications due to COVID-19. Phase 2 may include the rest of the population aged 16 and up, according to the IDPH. 
Kane County began providing vaccinations to Phase 1A healthcare workers the week of January 6, with vaccinations in long term care facilities beginning the week prior under a national program. On January 21, the county began distributing vaccines to essential workers in Phase 1B. Appointments for senior citizens in Phase 1B will begin within two weeks, according to the Kane County Health Department.
Two COVID-19 vaccines are currently authorized for use in the US—one created by Moderna and the other by Pfizer and BioNTech. Both vaccines are administered in two parts: an initial dose of the vaccine and a follow-up dose a few weeks later to increase effectiveness.
Mandy Cote, a physical therapist in Kane County, received the first dose of Moderna's COVID-19 vaccine on January 8 during Phase 1A. She is expecting to receive the second dose of the vaccine on February 5. 
Cote said she chose to get vaccinated because, as a medical professional, she is unable to stay socially-distanced from her patients. 
"I decided to get the vaccine to help keep my students safe, my patients safe, [and] my family safe," said Cote. "I feel like it's just the right thing to do to help us move forward and keep everybody safe." 
Cote received the first dose of the vaccine at the Kane County Health Department's COVID-19 vaccine clinic located at the Kane County Fairgrounds. Upon arrival at the clinic, Cote recounted the presence of national guard officers, police officers, and security checks. "It was a little intimidating," she said. "But it was super well done and I felt super safe," she said. Cote described her experience receiving the vaccine as quick, painless, and easy. 
After receiving the vaccine, Cote said she remained at the clinic for 15 minutes to ensure she did not experience any side effects. "Immediately after [receiving the vaccine] I felt fine," said Cote. "It wasn't until the next day that my arm started to feel a little sore and a little heavy."
The second day after receiving the vaccine, Cote said she felt worse. "I woke up and I couldn't lift my arm, it felt so painful," she said. Cote said she felt better after taking an over-the-counter pain reliever, and on the third day after receiving the vaccine, she felt completely better, experiencing no other side effects.
"I feel extremely grateful that I was given the opportunity to get the vaccine so early," said Cote. "It makes me feel hopeful." Cote said that being able to receive a vaccine takes away some of the fear of being out in public and working with patients and students. "It just makes me so grateful that we have this vaccine and we were prioritized as healthcare workers to get it in the first round."
Cote stated that the choice to receive a vaccine is a personal choice that should not be taken lightly. "I encourage everyone to do their research and decide if taking the vaccine is the right thing for them. I also encourage everyone to respect each others' choice as it's not a one-size-fits-all decision," said Cote.
Teachers are included in Phase 1B's "essential workers" category—but it will be a longer duration of time before the general public and East students can begin receiving COVID-19 vaccines. The Kane County Health Department says vaccinations for the general public are not likely to begin until early spring.
For more information and updates, go to https://kanehealth.com/.
Leave a Comment
About the Contributor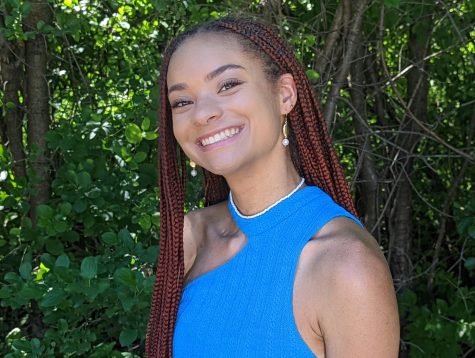 Nia Cocroft, Editor in Chief
Nia is a junior at East and it is her third year on the X-ray staff. After assuming the role of News Editor last year as a sophomore, she has moved up...