East's Fall Orchestra concert took place in the Norris Cultural Arts Center at 7 p.m. on Thursday, October 19. It was Angie Wifler's first concert as an orchestra teacher at East and was followed by a reception in the commons for students, parents and friends. The concert was roughly 90 minutes in length and had free admission.
Concert Orchestra, East's ninth grade orchestra debuted with their first song, "Amadeus" by W.A. Mozart and Hoffman. It was an excellent choice to start, getting the crowd excited for what waited ahead. On the second song, "After the Rain" by Susan Day, the Chamber Orchestra accompanied the Concert Orchestra. The two orchestras played well together. t was clear that students put a lot of effort into practicing their pieces prior to the concert.
To close out their part of the concert, the Concert Orchestra played "Dance of the Iscariot by Kirk Mosier."
Symphonic Orchestra, one of East's orchestras for sophomore-senior students, started out with "Basile's Galop, Op. 9" by Basile Bares and Bishop. Their bass soloists included Alex Asimor, a sophomore at East, and Aidan Miller and Wyatt Snopko, both juniors at East. These solos brought a different feel to the concert as the low notes rung out across the auditorium. Each musician had a deft expertise in their instrument and it showed in their solos. 
They then performed "Interlude 'Nightfall'" by Yukiko Nishimura, "Drifen" by Shirl Jae Atwell, and English Fugue by Selby and Sheinberg. Between the contrast of the staccato of the violins, the rest of the instruments followed suit and created a satisfying atmosphere that energized the crowd for the last act of the night: Chamber Orchestra.
The last of the orchestras to play was Chamber Orchestra, East's only audition-based orchestra. They opened with "Short Overture" by Jean Berger and followed that with "Dreams of a Midsummer Night" by Richard Meyer which was inspired by the Shakespearean play. Seniors Ume Hashimoto-Jorgensen and Megan Kamysz soloed on their respective violins and cellos.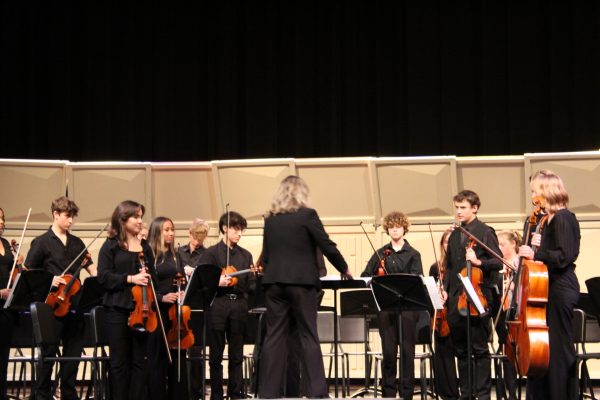 To finish off the night, Chamber played an Ostinato and "St. Paul Suite" by Gustov Holst.
"My favorite piece we performed from that concert definitely had to be the Jig from Holst's 'St. Paul Suite' because all of the instrument parts were interesting, making it a very engaging piece to perform," Kamysz said. "The energy and enthusiasm shared by everyone else regarding that piece also made it more fun to work on… I really think that shone through at the concert." Kamysz has been in the Chamber orchestra since their sophomore year and is part of Elgin Youth Symphony Orchestra (EYSO) outside of school.
The orchestra's next concert will be the winter orchestra concert, which is scheduled for Dec. 7, 2023 in the Norris Cultural Arts Center.