East hosts 6th annual St. Baldrick's fundraiser
With 22 participants, five schools and groups and over $24,000 raised, St. Baldricks, a non-profit organization that helps raise money for cancer research, finished their sixth annual fundraiser at St. Charles East High School.
St. Baldricks started in 2017 for the East staff and students, when the school was invited to participate in the event through another school, leading to the decision to host it themselves.
"I think my favorite part is watching students sign up for this," said Assistant Principal Lisa Dandre. "I don't do anything more than say it on the announcements and tell people to send me an email. Every year I have a double digit number of students that want to do something….people know it's a good cause and want to help so that makes me proud every year," she said.
"We have Anderson Elementary, we have Lincoln Elementary, St. Charles East," Dandre said, "then we have some outside groups that are here to get their heads shaved and all of those together are called the Saint Charles Challenge."
This year, many students participated in getting their heads shaved, like junior Aadit Shah, who volunteered to shave his head for his first time at St. Baldricks.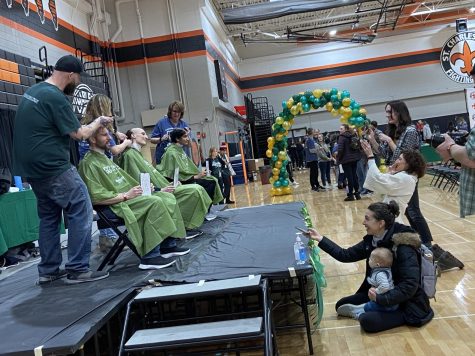 "Kids with cancer, we got to help them, we got to raise money, find treatment you know? We got to do all the basics," said Shah, who raised over $1000 for the event.
While participants got their head shaved, many different activities and music surrounded the stage. Games like musical chairs, marshmallow toss and ring toss were led by the school's student council, as well as various prizes and raffles.
"Some people had to come up with game ideas," Said Ellen Jahoda, a sophomore in student council. "The way it works is that there are shifts, some people stay at the clap tunnel and others come up and work the games," added Jahoda.
"There was a lot of planning before it, in our [student council] meetings and everything," explained East sophomore Élin Foreman. 
Sophomore Kaitlyn Kreeger, who helped set up the event, said, "There was a lot of making sure that we didn't have anything else conflicting with this."
"We went to a lot of meetings during school to plan for this," added sophomore Ella Flores-Brosnan, also part of the student council. 
Along with first-time volunteers of St. Baldricks were many returning participants, like East history teacher Neil Currie. 
"I truthfully, I will do whatever it takes to raise money for a good cause," said Currie, "if it means shaving my head to get people to donate money I'll do it, I just think it's important to help others and just be a good person."
"You've got to set a role model for all the other kids," said Shah, "shave your head, raise some money."