St. Charles East's Drama Club introduced a terrifyingly wicked show that was the perfect way to start off the 2023 spooky season. This show was not only blood-curdling and intriguing, but showed off the hard work of all the actors and backstage members. From the loud, strong voices of these exceptional actors, to the design and hard work from the backstage members, this show depicted the time and backbreaking work that payed off. 
"Something Wicked This Way Comes" (originally a dark fantasy novel by Ray Bradbury) follows the friendship between two 13-year-old boys, Jim Nightshade (Played by Rory Brennan) and William Halloway (played by Theo Koulis) as they discover a mysterious carnival, lead by the daunting Mr. Dark (played by Meredith Musial), with a deep secret that comes to their midwestern town of Green Town, Illinois. 
This play took place from October 13-15, and during this time as well as during tech, members of the play had to manage the play and their school studies. "I'm lucky to be in classes where homework is generally very light, so as long as I attended class and set aside an hour or so at home, keeping up with grades was fairly easy," said Ro Brennan. However, some members dealt with it differently. "My time management is never great, and tech week does not help. Luckily my teachers were pretty understanding of my circumstances. But overall, I stayed on top of things," said Maddy Spaeth (who was one of the carnies).
The characters of Jim Nightshade and Will Holloway were both playful and curious, traits that ultimately saved the town from the carnival in the end. From running around the stage, climbing up onto wooden balconies and even being in an incredibly confined space for a couple minutes, both of these actors did their best to hold character and remember their lines. "Getting my lines down was pretty difficult for me. This was my first lead in a show and I have never had this many lines to remember. With time I got them down and they became second nature," said Theo Koulis. Not just these two characters, but the whole cast accurately described the play's thematic fear of aging and how far one would go just to add a few more years onto their life.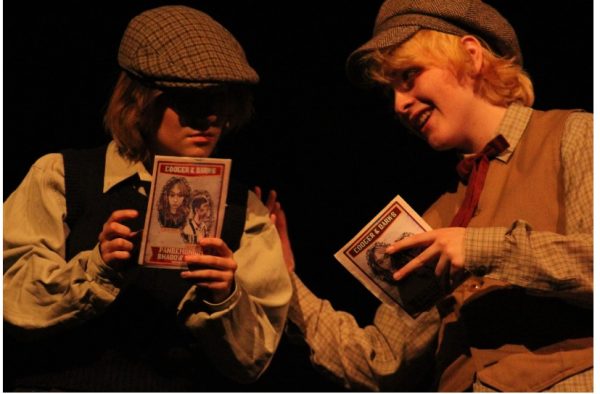 This play was so well done that it was impossible to notice the countless actors that were new to acting in plays or not as experienced in set as others. "I haven't actually been in a play before, so one of the most difficult parts honestly was portraying my character just through acting and not singing. In the past, I've only done musicals so it was definitely a big change," said Angie Escarcida (who stars as Miss Foley). Likewise, "It was a little stressful working on the set because I really had no experience with building before but I ended up learning a lot and really appreciate the knowledge I learned from it," remarked Addie Osborne (who played Creepy Robert, a carnie and a townsperson.) 
Characters were a big part of the play, as well as what was needed to overcome the challenges of getting that character down. "I spent a lot of time staring at myself in the mirror with bug eyes and a smile, finding what made me attracted and what creeped me out," said. Mr. Dark was a great character that had a rich voice that rang throughout the entire auditorium. Mr. Dark was very mystifying, in addition to the movements Musial added to the way Mr.Dark lurked through the town during the beginning part of the show. The one scene that scared me the most (and was unforgettable) was when Mr. Dark made his initial entrance onto the stage, passing out flyers throughout the town as he swayed and hummed,  the echos from which invaded the surroundings. Well done!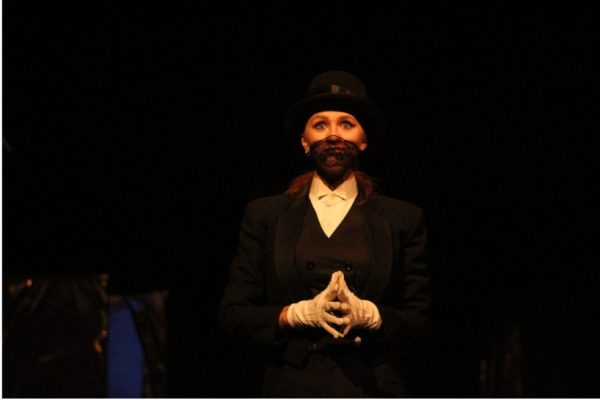 The carnies made their first entrance onto the stage with flips, turns and tricks with back chilling carnival music playing in the surrounding distance. "A difficulty I had in getting my character down was that I had to learn to juggle. This was something I didn't know I needed going into the play but it was honestly super fun trying to figure it out," said Tyler Kirch. The masks of the carnies were petrifying to look at because of how scary they were, but were incredibly hard not to admire. " I love the feeling of something I make being used and perceived outside of the connection from myself, and just seeing the things I created and designed come to life was always the most rewarding thing every night," said Yzabelle De Luna, a backstage member and designer of the carnie masks.
Everyone in  the cast participated in one way or another backstage, however backstage members had honorable shout outs from cast members. "The backstage crew deserves all the credit in the world and are the most underrated people in the theater department. I think the biggest way they helped me was when I had to throw a glass vase across the stage without breaking it or making a noise, and Emma Lumpp caught it every time without fail and was a big help to me," said Addie Osborne.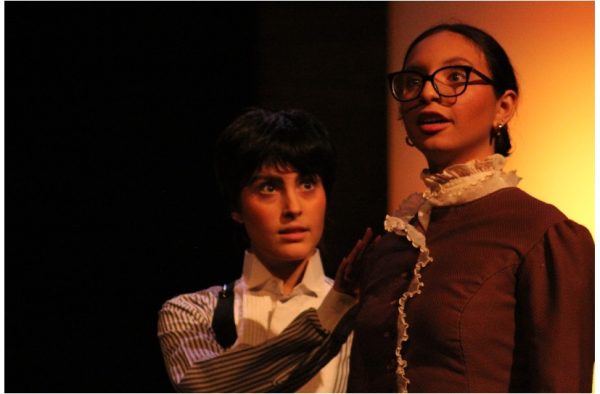 Backstage members dealt with many stressful situations during the production of the show. "The costumes arrived THE MONDAY of tech week AFTER rehearsal had already happened, so we basically had two days to make alterations, change out costumes we didn't like, pull costumes for people who literally didn't get any…" stated Yzabelle De Luna. 
Actors a part of the cast also participated during production to help make the show better and successful. "As actors we are required to help out with building the set. But it doesn't really feel like a requirement. I know that if I go to our set builds and help out it's just making the play all the better," stated Maddy Spaeth. 
The cast members and backstage members were overall happy with the outcome of the show and thought that the hard work that was put into the play all paid off. "I think it turned out awesome! There are some grievances I have with the script itself in comparison to the movie, but working with what we had, I think everyone killed it!" said Ro Brennan. 
Overall, the play was a great experience to see and it was interesting to get a clearer look of what happened behind the scenes and to capture the voices of the actors. I enjoyed the terrifying aspect and art of the show and think that it deserved eyes from around the whole world. "[Theater]  is such an amazing community and I'm so glad more people are becoming interested in it!" stated Tyler Kirch.