Electric Christmas Parade returns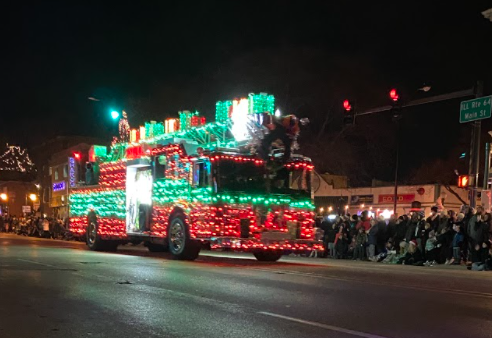 Making up for last year's lost time, many local businesses took part in marching through downtown St. Charles in  the return of the annual Electric Christmas Parade.  
In 2020, due to the effect the pandemic had on the town, the Electric Parade was canceled. In exchange, a different program was set.
The "Holiday Tree Trail" program was put into action as businesses had the opportunity to decorate their very own Christmas trees. Thus the holiday spirit and cheer remained, even when plans were changed. 
This year, the town felt overjoyed when learning that the Electric Light Parade could go on again. Community members showed their support and excitement as numerous  lawn chairs and picnic blankets were placed alongside the main roads of St. Charles early in the morning.
"I was driving downtown with my dad," said East sophomore Ana Avila, a student who passed by the area before the parade. "There were a lot of kids and many blankets and lawn chairs spread out on the sidewalk. People were wearing Christmas sweaters and santa hats." 
As early as an hour before the parade, cars began to pile up in the parking lots and much commotion could be heard around town.
Kicking off with an ovation to the flags, the parade began with cheers and smiles. Music, lights, costumes, and dancing could be seen, including performances from East and North's highschool bands. St. Charles North spread cheer with "Jingle Bell Rock," while St. Charles East brought in the beat with "Deck the Halls". 
"I honestly felt really good even though it was freezing. It was kind of hard to play because of that, but it was really exciting and the adrenaline was there," said Lucia Delgado, a sophomore who participated in the parade alongside the East band. 
With reindeer costumes, puppy inflatables, butterfly light sculptures, and old fashioned cars from the 1920s, more than 40 local businesses participated in the parade, each bringing in their own unique decorations. The local fire department left everyone in awe with their decked-out fire trucks and blaring, bass boosted Mariah Carrey.
Davis and Richmond Elementary Schools came in with  "Among Us" themed costumes and floats, showcasing their creativity. From performances by 3rd Street and Elite Dance Academy, to instruments such as trumpets, flutes, and bagpipes, various expressions of art were used to spread holiday cheer.
Though last year's plans were cut short, St. Charles' Electric Christmas Parade continues to bring smiles and spread cheer.
Leave a Comment
About the Contributor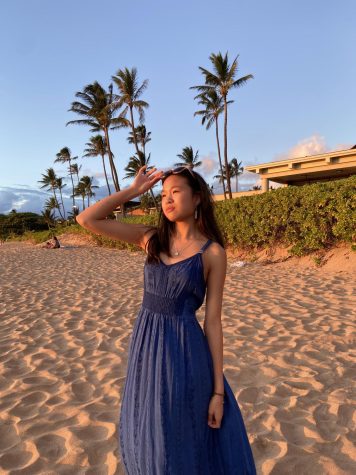 Ava Brucal, Staff Writer
Ava is a junior at East, and it is her second year on the X-ray staff. She is most interested in writing Features, In-Depth and Entertainment pieces. She...