Results of D303 Equity Audit reviewed at recent board meeting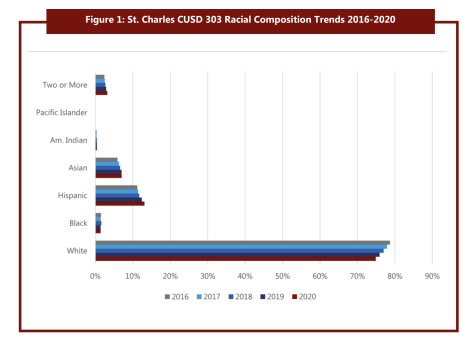 On Aug. 15, Catalyst for Educational Change and the University of Chicago' s Chapin Hall reported on their findings from last year' s D303 Equity Audit at the Learning and Teaching Board Committee meeting.
The audit–which consisted of a series of surveys, focus groups, and the subsequent review completed by Chapin hall–is a part of the district's ongoing Diversity, Equity and Inclusion initiative.
A review of the report can be found on D303 's Equity Audit page and is titled, "Equity Audit Review." (The review included demographic reports, like the one illustrated here.)
According to the review, findings from the report indicated that student achievement gaps are found along demographic lines, specifically among Black and Latino students. Additionally, gaps were indicated among socioeconomic groups in the district, reflecting national trends.
Standardized testing results indicated an achievement gap by sex. It was found that females significantly outperformed males in English Language Arts (ELA,) while males significantly outperformed females in math.
Sex-related discrepancies were also discovered in regard to school climate. Males scored significantly higher in student-teacher relationships and a sense of belonging than females.
Overall, district families reported feeling included, welcomed and valued at most D303 schools. However, the review also noted "reports of micro-aggressions and disrespectful behavior" across racial/ethnic groups that "need to be addressed."
"The data collected would suggest a significant desire across all interest groups for a more equitable system," the review stated.
Based on the audit findings, the D303 administration recommended that a Superintendent Committee be formed to develop an action plan.
The committee has since been formed and contains personnel such as building administrators, board members, certified staff members and Superintendent Paul Gordon, according to the Director of Diversity, Equity, & Inclusion, Dr. Tracy Taylor.
According to Taylor, the Superintendent Committee held its first meeting Wednesday, Sept. 28.