East Students Show How It Is Important To Help Others During The Holidays
If I were to sum up 2020 in one word, it would be "gloomy." It seems like every other day there is some kind of tragedy or disappointment in the world, and with COVID-19 case numbers skyrocketing again, it's hard to find joy in our daily lives.
However, if you look hard enough, you can find people who are turning the unfortunate realities of 2020 into positive actions.
As the President of Key Club, I feel lucky to work with other like-minded individuals who share a mission of positive change through serving others. In November, Key Club partnered with Student Council to put on the Salvation Army Food Drive and the St. Charles East Turkey Drive. 
Around Thanksgiving, it is more important than ever to give food to those less fortunate. This holiday is all about spending time with family and friends, celebrating the history of our country, and eating a delicious meal.  With COVID-19 restrictions, many East students were not able to see our friends and family in person. Those who were not able to afford a meal may not have had much of a traditional Thanksgiving at all.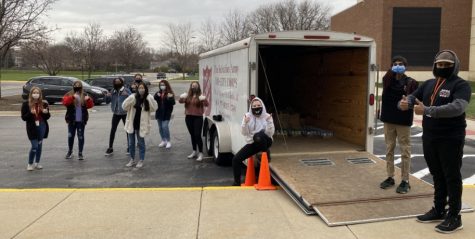 Believe it or not, more people suffer from a lack of food than you may realize. The U.S Department of Agriculture reports that in 2019, 38 million Americans were helped by the Supplemental Nutrition Assistance Program (SNAP) in the United States. The Center on Budget and Policy Priorities reported that in Illinois, 1.8 million people received food stamps. Illinois is the 5th highest food stamp user in the Country. Finally, there are 19,900 people on food stamps in Kane County. This means that 19,900 were in jeopardy of not having a Thanksgiving meal in our own county.
After hearing these statistics, 43 students from East decided to brave 40-degree weather in order to collect donations outside the main doors of Saint Charles East High School.
Through the efforts of Key Club, Student Council, and the generosity of the St. Charles community; 93 families were able to celebrate Thanksgiving during these gloomy times — which makes the year a little brighter for everyone.
Sources: 
"Food Stamps in Kane County, Illinois (County)." The Demographic Statistical Atlas of the United States – Statistical Atlas, statisticalatlas.com/county/Illinois/Kane-County/Food-Stamps. 
Nchako, Catlin, and Lexin Cai. "A Closer Look at Who Benefits from SNAP: State-by-State Fact Sheets." Center on Budget and Policy Priorities, 16 Mar. 2020, www.cbpp.org/research/food-assistance/a-closer-look-at-who-benefits-from-snap-state-by-state-fact-sheets. 
"SNAP Data Tables." USDA, www.fns.usda.gov/pd/supplemental-nutrition-assistance-program-snap.