Covid-19 Vaccines May Be Ready For Roll-out
In the meantime, East's school nurse weighs in on what this may mean for East students
Since the beginning of the COVID-19 pandemic, scientists and pharmaceutical companies around the globe have been racing to create both a safe and effective vaccine for the novel coronavirus.
Recently, three Phase 3 COVID-19 vaccine trials have shown some particularly promising results. 
One vaccine, created in partnership by the pharmaceutical firm Pfizer and German company BioNtech, boasts an efficacy rate of 95%, according to a Pfizer press release. This efficacy rate refers to the vaccine's effectiveness at preventing COVID-19 during its trial. 
As of November 30, Moderna—developer of a second vaccine—released updated data from their vaccine trial, which found their vaccine to be 94.1% effective at preventing the coronavirus in a group of participants. According to the company, the vaccine's efficacy at preventing severe cases of COVID-19 was 100%. 
Similarly, AstraZeneca recently reported their vaccine, created alongside Oxford, had an average efficacy rate of 70% in its clinical trials. According to AstraZeneca, two dosing regimens in the trials yielded different results—one resulting in an efficacy rate of 62% and the other in an efficacy rate of 90%. The company said that further analysis will be done on the vaccine in order to solidify these findings. 
Unlike Oxford and AstraZeneca's vaccine, Moderna and Pfizer's vaccines are mRNA(Messenger RNA) vaccines. This could mean big news, as these vaccines may be the first ever mRNA vaccines to be approved for use in the United States. According to the Centers for Disease Control and Prevention(CDC), an mRNA vaccine has yet to gain approval for usage in the U.S.
What exactly are mRNA vaccines? The CDC explains that as opposed to many vaccines, which use weakened or inactive germ to create an immune response within the body, mRNA vaccines instruct the body's cells to create a specific protein. Once created, this protein triggers an immune response, making antibodies that prevent the body from infection with the virus.
Before any of the coronavirus vaccines can be distributed in the U.S, the companies will need to apply to the Food And Drug Administration(FDA) for an Emergency Use Authorization. This authorization allows for products to be distributed during times of emergency, and will allow for the vaccines to be distributed without going through the full approval process. According to the FDA, in order to be approved for this authorization, a COVID-19 vaccine should have an efficacy rate of at least 50%—an expectation that all three vaccines meet. 
At this point, there is not a COVID-19 vaccine that has been approved for the authorization.
Pfizer announced that they applied for the authorization of their vaccine with BioNTech on November 20. In anticipation of approval, Pfizer has already started the process of shipping out doses of their vaccines for distribution. The first doses of the vaccine were flown into Chicago O'Hare Airport on Sunday, according to NBC. Moderna also announced that they were seeking out emergency approval for their vaccine on November 30.
St. Charles East's school nurse Megan Mueller said that some Americans may receive a coronavirus vaccine as early as this December. However, according to Mueller, school-age children and adolescents likely won't be among the first groups to receive a vaccine. Mueller said she would not expect St. Charles East's population to see a COVID-19 vaccine until 2021. 
Pfizer, Moderna, and AstraZeneca's coronavirus vaccines are administered in two parts, according to trial information from each of the companies.
Mueller believes that East students and staff would "have to get both vaccines to be able to see a difference" and return to school normally.
Just how much of the population at East will need to receive a vaccine for a normal return to school? There is not a definitive answer yet, said Mueller. Receiving a COVID-19 vaccine could, however, be required for East students to attend school in the future. 
"The state would have to make it a mandate…" Mueller explained. "Some states have made the flu vaccine mandatory to attend school, just like we have a certain list of vaccines that are mandatory."
While the news of these vaccines does offer a sense of hope during these times, the coronavirus is still very much present in the U.S–with cases and hospitalizations on a rise in areas across the country, according to Healthline.
"I just wish that in the community they'd wear masks more," she said. "That's the one thing that I think would help make a difference." 
Mueller said that she wishes people of all ages, including school-aged children and adults, would wear masks more frequently to help combat this problem. 
"I just wish that in the community they'd wear masks more," she said. "That's the one thing that I think would help make a difference." 
Mueller said that she hopes a coronavirus vaccine will halt the progression of the pandemic to a point where fewer people are contracting the virus. Hopefully, she said, this will allow for students and staff at East to return to the building together.
Sources:
"AZD1222 Vaccine Met Primary Efficacy Endpoint in Preventing COVID-19." AstraZeneca, 23 Nov. 2020, www.astrazeneca.com/content/astraz/media-centre/press-releases/2020/azd1222hlr.html. 
Center for Drug Evaluation and Research. "Coronavirus (COVID-19) Update: FDA Takes Action to Help Facilitate Timely Development of Safe, Effective COVID-19 Vaccines." U.S. Food and Drug Administration, FDA, 30 June 2020, www.fda.gov/news-events/press-announcements/coronavirus-covid-19-update-fda-takes-action-help-facilitate-timely-development-safe-effective-covid. 
Mills, David. "Here Are the States Where COVID-19 Is Increasing." Healthline, 2020, www.healthline.com/health-news/here-are-the-states-where-covid-19-is-increasing. 
"Moderna Announces Primary Efficacy Analysis in Phase 3 COVE Study for Its COVID-19 Vaccine Candidate and Filing Today with U.S. FDA for Emergency Use Authorization." Business Wire, 30 Nov. 2020, www.businesswire.com/news/home/20201130005506/en/. 
NBC Chicago. "Pfizer's COVID-19 Vaccine Arrives at Chicago's O'Hare Airport: Source." NBC Chicago, NBC Chicago, 28 Nov. 2020, www.nbcchicago.com/news/local/pfizers-covid-19-vaccine-arrives-at-chicagos-ohare-airport-source/2382026/. 
"Pfizer and BioNTech Conclude Phase 3 Study of COVID-19 Vaccine Candidate, Meeting All Primary Efficacy Endpoints." Business Wire, 18 Nov. 2020, www.businesswire.com/news/home/20201118005595/en/. 
"Pfizer and BioNTech to Submit Emergency Use Authorization Request Today to the U.S. FDA for COVID-19 Vaccine." Business Wire, 20 Nov. 2020, www.businesswire.com/news/home/20201120005370/en/. 
"Understanding MRNA COVID-19 Vaccines." Centers for Disease Control and Prevention, Centers for Disease Control and Prevention, www.cdc.gov/coronavirus/2019-ncov/vaccines/different-vaccines/mrna.html. 
Leave a Comment
About the Contributor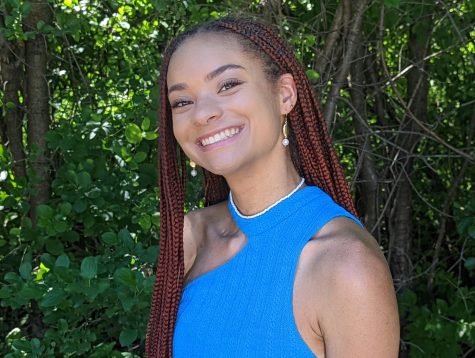 Nia Cocroft, Editor in Chief
Nia is a junior at East and it is her third year on the X-ray staff. After assuming the role of News Editor last year as a sophomore, she has moved up...