The Silent Epidemic: A coach shares his personal story
Former Head Coach Mark Potter, keynote speaker on mental illness, set to speak at Norris Cultural Arts Center in September
During the 2021 Tokyo Olympics, the world watched as gold medalist Simone Biles dropped out of the team gymnastics competition, citing mental health struggles. This moment, combined with the existing struggle for athletes in the COVID-19 pandemic, brought the discussion of athletes' mental health to the forefront of the media. 
Mark Potter, former Head Basketball Coach at Newman University, has been calling attention to this issue for years. Potter was the Head Coach at Newman for 19 years, completing a 30-year coaching career which also included high school basketball. 
On September 1, the Norris Cultural Arts Center will host Coach Potter and his wife Nanette as he shares the story of his own mental health struggles in sports. Potter was able to overcome severe depression at the height of his career and found his way back to success in a powerful story.

Potter says that he "went through severe depression, with incredibly dark thoughts, all the way to suicidal thoughts," at the beginning of one of his seasons coaching at Newman. 
Potter cites the intense societal stigma around mental health, which is especially present in athletics, as the reason that he kept his dark thoughts to himself. 
"The stigma is not just strong in society," he says, "but in the athletic world it is worse. In a lot of ways, we create this stigma, by saying things to athletes like 'you need to suck it up, pull up your bootstraps, you need to be ready to go,' those kinds of things."
For a long time, Potter says that he even tried to hide his depression from his wife, Nanette. Eventually, though, the day before their season-opening game, the pair hit a breaking point. 
"My wife forced me to go to the doctor [for depression]," Potter says. And when he says "forced," he means literally. "She threatened to call my assistant coach, who was 6'6" and 280 pounds, to come pick me up if I didn't go."
He says that the decision to seek health "changed his life." Potter was instructed by the doctor to take medication for his depression, see a counselor, and that he could return to coaching when a medical assessment deemed him ready. In the beginning of that season, Potter missed eight games and 28 practices with his team. 
At that point, Potter says that "there was a choice to be made about whether I was going to tell the public why I wasn't with my team."
Potter says that he was not planning to tell anybody. 
"I was completely embarrassed and felt like I was on an island, and felt like there was nobody else in my position going through that … it goes back to that very strong stigma [around mental health] that we all have continued to feed unintentionally," he says. 
At that point, Potter received an email from a sportswriter who wanted information on his absence. At first, Potter denied an interview, not wanting to speak publicly about his struggle. 
After telling his team what had happened, though, Potter says that a comment from a freshman changed his perspective, and his life. 
On the bus to a game, a freshman pulled Potter aside and said that he "thought it would be pretty cool if I talked to the reporter about what had happened," Potter says. He remembers how the comment "haunted" him for the rest of the day, until he spoke to his wife about it and decided to share his story. 
As soon as an article was released, Potter says that they were "absolutely inundated with people reaching out and saying thank you."
"Just like that," he says, "you realize that this thing is much bigger than I am. And the bottom line is that if we do a decent job portraying some of our own struggles, it can truly relate to other people and allow them permission to go get help, or give them hope they never had before."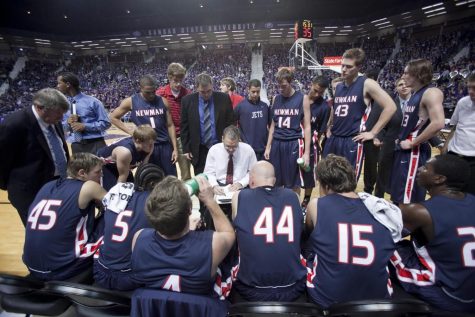 That moment was 16 years ago. Potter says that he and Nanette have "been on a mission ever since," because he "felt it was a calling and like it something that my wife and I needed to do." For the past four years, the Potters have travelled the country discussing mental health, specifically in athletics. 
"We see the impact everywhere we go," Potter says. "It has changed our lives."
Potter also wished to give Judge Clint Hull credit for his work in the organization of the September 1 event. Years ago, Potter and Hull made contact after Hull called him in response to an NCAA article about Potter's story. 
"We've stayed in touch since then," Potter says, "for the past nine years. And he finally said, 'Coach, it's time to finally make this happen,' so huge shoutout to him and his heart for people and his heart for mental health issues."
Coach Mark Potter and Nanette will share more of their story on Wednesday, September 1, at 6:00 p.m. in the Norris Cultural Arts Center. East students, faculty, staff, and members of the St. Charles and local communities are encouraged to attend. 
Leave a Comment
About the Contributor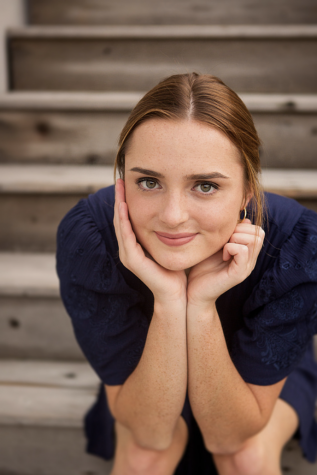 Katie Kempff, Editor-in-Chief
Katie is a senior who has been on the X-Ray for all of her years at East, and now holds the position of co-Editor. Katie participates in a number of other...