Covid-19 Update: Omicron arrives in Illinois
"COVID-19" has become a familiar phrase since March 2020. We have experienced numerous surges and dips in cases throughout the pandemic. Recently, though, a new variant of the virus called Omicron has medical professionals on edge.
This past week a case was verified in Illinois. According to recent reports, the person with this variant has symptoms but is not hospitalized.
The new Omicron variant was originally discovered by scientists in South Africa. According to the New York Times, this new variant has caused numerous countries to ban travel completely to countries in Southern Africa, and some have closed their borders to all travelers completely, including Israel, Morocco, and Japan. This is due to the new variant's ability to travel rapidly.
As for the United States, New York has been a big hot spot for the pandemic since it started, and was one of the first states to report cases of Omicron, which is described as fast-moving but less severe than the original strand from March 2020, according to the New York Times. The New York Times has collected statistics on cases with Omicron detected, and discovered 18 total reported cases, with 5 of those being in New York state. As far as Illinois is concerned, there has been one case reported in Illinois, according to the Chicago Tribune on December 7. The case was reported by a Chicago resident.
Last week, Oak Park River Forest's Superintendent decided to restrict all student extracurriculars in efforts to prevent further spread of COVID-19. According to the Chicago Tribune, this action led to a protest outside of the school this past Saturday.
"We need to see a high level of compliance on Monday before we can determine whether we can safely resume activities on Tuesday," said Dr. Greg Johnson, Superintendent. The school released an updated statement allowing activities to resume, following a high level of student compliance with new safety procedures.
According to the Kane County Health Department, local transmission levels are spiking once again, with 339 cases reported in Kane County on December 6 alone. None of these have been reported as cases of the Omicron variant.
Omicron may be a sign that the fight against COVID-19 is far from over.
Leave a Comment
About the Contributor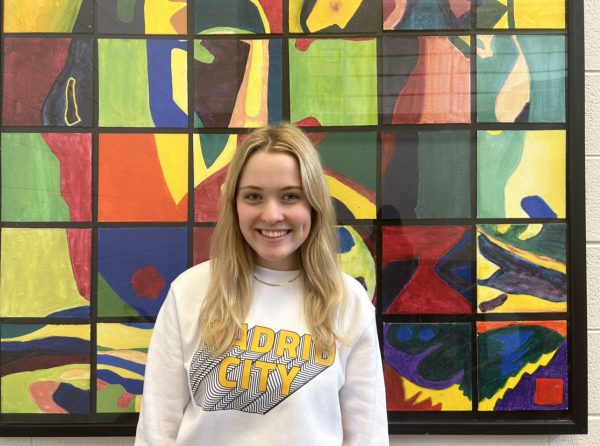 Sophia Smallwood, Editor in Chief
Sophia is a senior at East and loves to travel. A two-time published author, she loves to write in her free time. Sophia plans to pursue psychiatry in...