East welcomes Women in Leadership speaking series
Natalie Gibbard and Elyse Jens had no idea that their freshman year Intro to Business course at East would change the course of their high school career. 
The two juniors are the Co-Founders of Women in Leadership, a speaking series dedicated to introducing East students–specifically girls–to the various careers and leadership opportunities they can pursue after high school.
On January 6, the pair hosted their first in-person event of this speaking series. It included three panelists, each of which was a woman in a position of leadership throughout the community. 
The panelists for the January 6 event were Kate Henessy, CFP, Partner at AssetGrade, LLC, Lauren Lollini, a Clinical Therapist and Parent Coach, and Leah Jenski, Lawyer and Business Owner.
Gibbard and Jens said that the idea for a Women in Leadership speaking series began when they were in their freshman year Intro to Business class together. 
"We noticed that there weren't as many girls in the class," Gibbard said. "We were two of only five or six girls in the whole class." 
This launched the pair's idea to create an organization that could promote female participation in business and related fields.
"We try to get influential women who we think would be beneficial to listeners and that we can learn from," Gibbard said.
"Originally, we were going to create a specifically Women in Business speaking series," Gibbard said. After hosting the first event with this title, though, the pair decided to switch tactics. 
"We realized that neither of us were super interested specifically in business," Jens said. "And that people didn't come to our first event because they weren't interested in business, either. So we thought that we would make it something that would be open to everyone and that everyone would be interested in."
They then changed the title to Women in Leadership, so that "people from all different professions could come to speak, and people interested in all different professions would attend. It was more inclusive," Jens said.  
Last year, the pair hosted four virtual speaking events, each of which with one speaker. The first event was attended by the most people, which Gibbard thinks is because they marketed it the most. On average, she estimates that 35 people attended each of the virtual speaking events. 
"One of the cool things about the online events was that we could get people to speak from outside of our area," Jens said. "For example, we had a woman speak from Colorado."
"You can also hear more people with more diverse and interesting stories when you have people there from different parts of the country," Gibbard said.  
In addition to the woman from Colorado, Gibbard added that they had a speaker from downtown Chicago, as well as a previous mayor of St. Charles. 
While the virtual events allowed for a geographical advantage, the in-person event was attended by a larger group of students. Gibbard estimated that about 90 students attended the in-person panel, which was during 2nd and 3rd periods of the school day. Part of the reason that the pair believes the in-person event was better attended was because it was during the school day, rather than after school as the virtual events had been. 
Both Jens and Gibbard say that they have learned a lot from the variety of speakers. 
"The woman from Chicago–who was a coder at Groupon–was younger, and it was really interesting to hear her stories of working, internships, and choosing her career path in today's work environment," Gibbard said. 
"Especially when you contrast her experience with that of the lawyers or artists we have listened to, because they all chose different paths."
Regarding the future of the speaking series, the pair plans to host at least two more online events this year. 
"We have a lot of hopeful prospects that should be good speakers," Gibbard said, "and we want to have more online events." 
In regards to another in-person event, Jens said that it will probably happen next year. 
"The in-person event will be more of a yearly thing," Jens said, "because it was a lot of work."
Jens said that the most valuable piece of advice she has taken away from the speakers is that "if you want to do something, you can do it."
"I've realized that, if you enjoy something, you can find a job relating to it or you can make one. [The speakers] really emphasized that you can do what makes you happy and still make money, which I think is a good message to put out there," Jens said. 
Leave a Comment
About the Contributor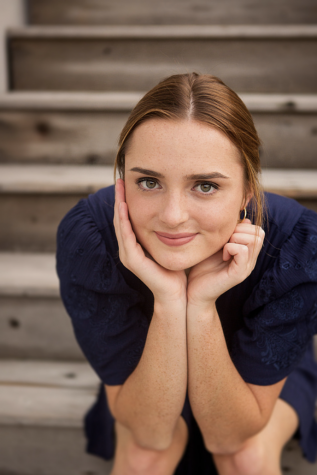 Katie Kempff, Editor-in-Chief
Katie is a senior who has been on the X-Ray for all of her years at East, and now holds the position of co-Editor. Katie participates in a number of other...