TOP 10 LIST: What to do with a Quarantine Halloween?
With the pandemic, we have to be creative in how we celebrate this year!
This Halloween won't be like any celebration we've had before. With the COVID-19 pandemic lurking around, remaining socially distant is the best way to celebrate —that doesn't mean Halloween should be canceled though. The spooky season doesn't have to stop from there. There's still plenty of activities to do from home or a safe distance away! So here are 10 fun ideas on how you can celebrate a Quarantine Halloween this year.
1. Go "Ghosting"
Many of you probably are wondering what this is.  When you "ghost" someone, you leave a bag of candy, toys, or other goodies on their doorstep.  Included is a little note telling them to pass it on.They'll be able to "ghost" someone else with the same note. Of course with a new bag of treats. It wouldn't be a real treat without candy to go along with it, right?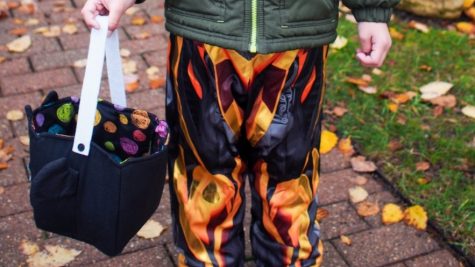 My brother, Nathan Ladines, with a bag of goodies in hand and ready to leave them out on our neighborhood friends' doorsteps.
Credits: Chloe Ladines
2. Play Halloween Games
You might not be able to play with friends in person but you can always play with your family.  One idea is to Halloween-ify normal games like Jenga, bean bag toss, or charades to fit into the spooky season. You can cut up a few pumpkins to be the targets of the bean bag toss for example. 
There's also plenty of more virtual games you can play with your friends and family. You can play simple games like Pass-It-On Ghost stories, where each person goes around in a circle to add a sentence to the tale. You could also do a murder mystery game. Everyone will become characters in a story and it's up to you guys to find out who's the murder. For this game you can find free murder myster game scripts online (and instructions about the characters) if you don't feel like creating one yourself.
Halloween decorating contest featuring my brother, Nathan Ladines.
Credits: Chloe Ladines
3. A Scary Movie Marathon
With so many scary movies throughout the decades, there's plenty of them to choose from. There's enough for you to watch the entire night! It's a classic Halloween activity. So grab some popcorn, candy and get ready for a fright!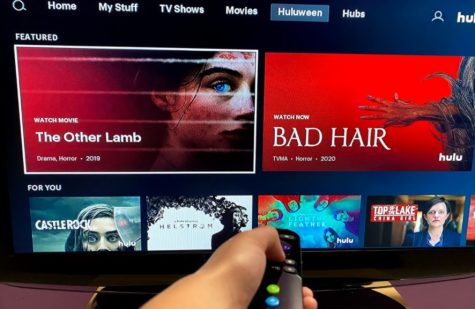 For those who have Hulu, browsing through Huluween is a great place for finding a new festive film to watch! (Or check out Quinn's review.)
Credits: Chloe Ladines
4. Carve Pumpkins
Pumpkin carving is a cool way to decorate your house for the festivities. For some families it's a Halloween tradition to carve pumpkins together! But don't worry, it's not  too late to carve pumpkins if you haven't done so already. It's a fun way to  express your creativity  and hang out with family and friends virtually or in-person safely away.  Maybe even try having a contest to see who can carve the most impressive design!  
5. Make a Spooky Treat
It's never good to leave yourself on an empty stomach, right? Spend some time making some spooky snacks.  One simple one you can make is Ghost Pizza Bagels. All you really have to do is spread your cheese in the shape of a ghost on top of your tomato sauce. You might not be able to go visit haunted houses or trick-or-treating this year but you can use all that Halloween enthusiasm into what you make!
6. Create a Fall Craft
Another fun activity is creating Halloween crafts! Found on Joann's website, one quick craft is creating your own ghost decorations with cloth. 
Here are the materials:
Stiffen Quik Fabric Stiffening Spray

Tulip® Dimensional Fabric Paints

Black Cheesecloth (enough for desired ghosts/sizes)

Scissors

Paper towel roll (tall skinny jar or other household item of desired size to use to form your ghosts)

Disposable plastic table cover
Here are the steps to do that:
Working on a covered work surface, cut cheesecloth to drape over ghost form with enough extra to create folds and drapes.
Spray cheesecloth with Stiffen Quick Fabric Stiffener to saturate. Drape over form and shape as desired.

Add more cheesecloth drapes, spraying each with Fabric Stiffener, until desired effect is achieved. Allow to dry.

Use Black Dimensional Paint to create ghost faces. Allow to dry.

Remove form from inside ghost. Display by hanging with string or on desired Halloween decor.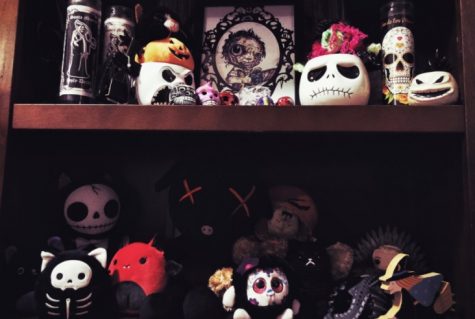 It's a great way to not only decorate the place but to spend time with friends and family. You could also turn it into a contest, and you can decide on rules. One idea is to make whoever creates the best craft in 5 minutes wins a candy  prize.
Credits: Leilani Dutcher
7. Host a Virtual Halloween Party
Even a pandemic can't cancel your party plans! Host a virtual party with friends so you're all able to celebrate together. Maybe even show off your costumes, crafts or goods that you've made. You could even make them during the party with your friends just like old times. 
8. Fun and Safe Ways to Hand Out Candy
One idea that's been circling around the internet lately is the Halloween Candy Chute. You'll need a pipe, a 2nd story window, and of course, some candy.  Whenever trick-or-treaters come knocking, simply send a Snickers or Hershey's bar down the chute to the eager patrons down below. Another interesting idea is to create candy bags and send them down a zip-line contraption to the trick-or-treaters.
Here was the viral creative idea, "Candy Chute", on how to stay safe and still hand out candy this Halloween!
Credits: Andrew Beattie "candy chute"
9. Put on Some Halloween Bops
Listening to Halloween bops is a simple and easy way to get into the Halloween spirit. You could be doing anything while listening to the bops and still have some piece of Halloween with you. Here's   Halloween playlist you can bop to.
10. Virtual Costume Contest
Even though it's not in person you can still host costume contests with friends and family virtually! It's a great way to show off your outfits and an amazing excuse to get out of those PJs for a change.