A New Beginning
IHSA Basketball Returns During The Pandemic
Dom DiPalermo
March 15, 2021
The Saints' basketball season has gotten off to an untraditional start.
The COVID-19 pandemic has brought all sorts of new changes to the game, making it look unfamiliar to many fans. For example, players wear masks, take 90 second "mask breaks", stay six feet away from referees, and can only invite two personal spectators to a game.
In order to find out more about the return to play, I asked Coach Patrick Woods, senior Nathan Hardy, and his mother, Karen Hardy about their thoughts on basketball during the pandemic.
First up was Coach Woods.
Q: How does it feel being back to basketball after the pandemic and having a better sense of normalcy?
A: "It's so great to be back in the gym. I know I missed it and I guarantee our kids missed it. It does feel totally normal again, minus wearing the masks of course," he said.
Q: How has your coaching adjusted to the pandemic?
A: "I have had to make a lot of adjustments to my coaching, and I am still adjusting… for example, our bench set-up is totally different, our timeouts are different because we no longer sit down and talk , we are now standing in a circle. The start of the game is different, there is no jump ball, the home team gets the ball to start the game. We also have a mask break for 90 seconds each quarter after the five minute mark."
"One of the biggest adjustments is the schedule. We are playing at least three games a week, including one on Saturday and one on Sunday. We have not had a day off yet since the season started. This can be pretty taxing on players and coaches alike. Also, we have kids that are playing multiple sports and they are trying to work out for that at the same time, so with school, practice, some have work and others have another sport. You can only imagine the difficulty that can create."
Q: How do spectator restrictions impact the coaches and the players?
A: "Well the good news is that players are allowed two spectators for home games, so at least they can have someone there to support them. The bad news is there are no fans [for the away team while] on the road. Fortunately all conference schools are streaming varsity and sophomore games so parents are still able to see their child play. Unfortunately the seniors won't have the packed house that they have seen growing up or possibly experienced last year. But we will take what we can get."
Woods' responses provide great insight into the new way of coaching high school basketball.  Nathan Hardy, a senior on the team, had a similar interpretation of the new regulations for the game.
Q: How does it feel being back to basketball after the pandemic and having a better sense of normalcy?
A: "It definitely feels great to be playing as things slowly become more normal. There was a lot of uncertainty if we were going to have a season or not and a lot of our guys did a good job staying focused and working during that time off. We are just trying to schedule as many games as possible and play anyone," said Hardy.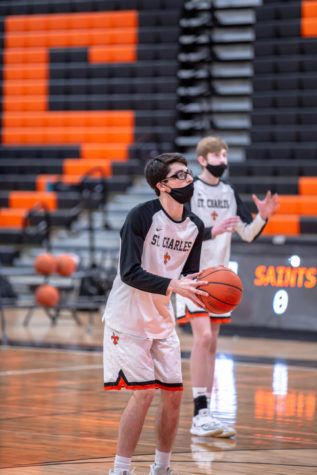 Q: How has your play been affected by the pandemic?
A: "For my play individually in the pandemic, it's important that I stay conditioned for the style that we play and with having masks on. We get occasional mask breaks, but I have been trying my best to simulate game speed whenever possible in practice and find my role in the team," said Hardy.
Q: How do spectator restrictions impact the players?
A: "There is definitely less energy in the gym than we may have been used to compared to last season. We just have to find our own energy and not rely on the fans that were able to come last season. We are just thankful to have a season, regardless of the restriction," said Hardy.
After listening to the perspectives of a coach and player, I wanted to speak to Karen Hardy and hear her thoughts on the adjustments due to COVID-19.
Q: How does it feel watching your son play again during the pandemic?
A: "[I am] so happy to be able to see him play again on the court. Especially during his senior year. [I] wish we could attend all the away games as well. So fun to see the team back together," she said.
Q: How do spectator restrictions impact the spectators and other parents?
A: "[I] wish more than two could attend but understand the reason behind the rules. [I] wish we could attend away games, but happy they are streamed and we can find a way to watch them," she said.